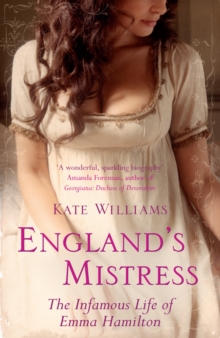 England's Mistress : The Infamous Life of Emma Hamilton
Paperback
Description
A dramatic, sparkling tale of sex, glamour, intrigue, romance and heartbreak, England's Mistress traces the rise and rise of the gorgeous Emma Hamilton. Born into poverty, she clawed her way up through London's underworlds of sex for sale to become England's first media superstar.
Nothing could stand in the way of her dreams- except her self-destructive desires.
Drawing on hundreds of previously undiscovered letters, and told with a novelist's flair, England's Mistress captures the relentless drive, innovative style and burning passion of a true heroine.
In a world of tabloid fame and three-minute wonders, Emma's life is truly a tale for our time.
Information
Format: Paperback
Pages: 432 pages, 16 Illustrations, unspecified
Publisher: Cornerstone
Publication Date: 07/06/2007
Category: Biography: general
ISBN: 9780099451839
Free Home Delivery
on all orders
Pick up orders
from local bookshops
Reviews
Showing 1 - 1 of 1 reviews.
Review by AdonisGuilfoyle
16/06/2015
An informative but impersonal biography of Emma Hamilton, the famous courtesan who became Nelson's mistress. Compared to Flora Fraser's account, which I couldn't finish, Kate Williams writes clearly and fairly about Emma, but there is always more history than personality in such studies of famous (or infamous) names. Although I admire the level of research, and how the author 'translates' money and locations for modern readers, I think perhaps only a talented novelist could really bring Emma to life, and separate her from the history books and footnotes. Emma, born Amy Lyon and raised in a northern mining community, created a life for herself that, as Kate Williams disclaims in the prologue, would be 'dismissed as improbable' in a work of fiction. Indeed, Emma's rise to fame - from scullery maid to artist's model to courtesan to England's mistress - is the hackneyed route of many a romance novel heroine, with seeming disregard for historical accuracy or propriety. Yet because of Emma's beauty, spirit and ingenuity, she really did overcome all obstacles of hardship and reputation to become a feted and beloved national heroine. Of course, she then lost everything and died in poverty abroad, like many a notorious eighteenth century celebrity, but for a time, Emma Hamilton was the height of fashion. And why? Because she was a true actress, who aimed to please and delighted in making a show of herself. Emma also knew how to attract, engage and flatter the male ego, and she moved from one aristocratic 'protector' to another, always looking for love. Her first lover gave her a daughter, the second established her as Romney's muse and gave her the name she was best known by, Emma Hart, the third she succeeded in marrying, and the final face in her rogue's gallery - Nelson - was the love of her life. Not a long list of conquests, and all but one loved her dearly and remained part of her life, but none of Emma's lovers guaranteed her financial security. As Kate Williams summarises: 'Despite all her charisma, intelligence and charm, Emma had to rely on what she could win from men - and when men would not give it her, she had nothing.' From the lively, creative, honest young courtesan, who wrote passionate if misspelled missives to her lovers and charmed royalty, nobility and the hearts of a nation, Emma Hamilton's descent into lonely poverty and neglect is at once heartbreaking and frustrating. Like Georgiana, Duchess of Devonshire, Emma lived beyond her means and ran up massive debts, but unlike Georgiana, there were no wealthy relatives to bail her out. When reading the final chapters, I wanted to shake Emma and shout, 'You have no money! Fire your maids and footmen, stop throwing parties, and face facts!'The only real sense of Emma Hamilton I got from Kate Williams' biography is how hopeless and pitiful the woman was in later life. Her magnetic charm, international appeal, and even her all-consuming love for the one-eyed, one-armed, toothless Nelson, didn't really ring true. She was either a beautiful, outgoing, caring, industrious woman ahead of her time, with the strength and independence to make life work for her, or a shrewd actress who knew how to manipulate men by constantly reinventing and, yes, prostituting herself to make them happy. Perhaps a mixture of both. One other minor quibble I have is with the cover to my edition - why, for a biography about one of the most painted women of her time, have Arrow Books chosen to use a stock photographic image of an Emma-esque model with dark hair and heaving bosom? The three colourful illustration inserts in the book are filled with stunning examples of portraits by Romney and Elizabeth Vigee le Brun, yet the publisher runs with a cheap, romance novel mock-up? Unforgiveable.