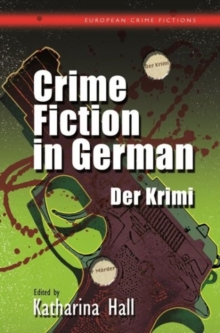 Crime Fiction in German : Der Krimi
Paperback / softback
Description
Crime Fiction in German is the first volume in English to offer a comprehensive overview of German-language crime fiction from its origins in the early nineteenth century to its vibrant growth in the new millennium.
As well as introducing readers to crime fiction from Germany, Austria, Switzerland and the former East Germany, the volume expands the notion of a German crime-writing tradition by investigating Nazi crime fiction, Jewish-German crime fiction, Turkish-German crime fiction and the Afrika-Krimi.
Other key areas, including the West German social crime novel, women's crime writing, regional crime fiction, historical crime fiction and the Fernsehkrimi (TV crime drama) are also explored, highlighting the genre's distinctive features in German-language contexts. The volume includes a map of German-speaking Europe, a chronology of crime publishing milestones, extracts from primary texts, and an annotated bibliography of print and online resources in English and German. ContentsMap of German-speaking areas in EuropeCrime Fiction in German Chronology1.
Crime Fiction in German: Key Concepts, Developments and Trends, Katharina Hall:Der Krimi; The pioneers (1828-1933); Crime fiction under National Socialism (1933-45); Post-war crime narratives (1945-59) and East German crime fiction (1949-70); The West German Soziokrimi (1960-) and further East German crime fiction (1971-89); Turkish-German crime fiction and the Frauenkrimi (1980-); Historical crime fiction, regional crime fiction and the rise of the Afrika-Krimi (1989-); Crime fiction of the new millennium and the lacuna of Jewish-German crime fiction (available Open Access at Swansea University)2.
The Emergence of Crime Fiction in German: An Early Maturity, Mary Tannert3.
Austrian Crime Fiction: Experimentation, Critical Memory and Humour, Marieke Krajenbrink4.
Swiss Crime Fiction: Loosli, Glauser, Durrenmatt and Beyond, Martin Rosenstock5.
Der Afrika-Krimi: German Crime Fiction in Africa, Julia Augart6.
Der Frauenkrimi: Women's Crime Writing in German, Faye Stewart7.
Historical Crime Fiction in German: The Turbulent Twentieth Century, Katharina Hall8.
Der Fernsehkrimi: A Short History of Television Crime Drama in German, Katharina HallAnnotated Bibliography of Resources on German-language Crime Fiction, Katharina Hall`Katharina Hall's knowledge of and enthusiasm for crime fiction in translation is prodigious, but (crucially) it is matched by her nonpareil analytic skills.
This combination, when focused on her particular speciality of genre fiction from Germany, makes her the perfect editor for and contributor to Crime Fiction in German: Der Krimi.
The book becomes at a stroke the definitive modern guide to the subject - scholarly, lively and accessible.'Barry Forshaw, author of Euro Noir and Nordic Noir
Information
Format: Paperback / softback
Pages: 192 pages, 1 Illustrations, black and white
Publisher: University of Wales Press
Publication Date: 03/03/2016
ISBN: 9781783168170
Free Home Delivery
on all orders
Pick up orders
from local bookshops