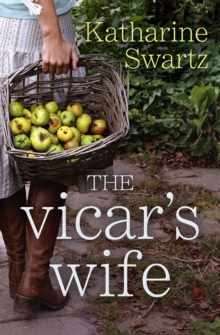 The Vicar's Wife
Paperback
Description
Jane Hatton and her British husband Andrew relocate from New York City to a small village on the Cumbrian coast.
Jane has been city-based and career-driven but when her fourteen year old daughter Natalie falls in with the wrong crowd at school in Manhattan, she and Andrew decide to try country living.
However Jane has trouble getting used to the silence and solitude of a remote village.
Natalie hates her new school, and eleven-year-old Ben struggles academically.
Only seven-year-old Merrie enjoys country life. Has Jane made a horrible mistake? The Hattons have bought the old vicarage in the village.
When Jane finds a scrap of shopping list, she grows curious about Alice, the vicar's wife who lived there years before.
As we follow the twin narratives of Jane, in the present, and Alice in the 1930s we discover that both are on a journey to discover their true selves, and to address their deepest fears.
Information
Format: Paperback
Pages: 336 pages
Publisher: Lion Hudson Plc
Publication Date: 18/10/2013
Category: Adult & contemporary romance
ISBN: 9781782640707
Free Home Delivery
on all orders
Pick up orders
from local bookshops
Reviews
Showing 1 - 5 of 12 reviews.
Previous | Next
Review by thornton37814
16/06/2015
The story set forth by author Katharine Swartz has a modern story and a back story. The back story involves a woman who became the vicar's wife in a small seaside village of England in the 1930s, continuing through World War II. The modern story involves a family, and specifically the woman of the family, which purchases the vicarage when the church moves the vicar into a more modern facility. The family includes a man (Andrew) who grew up nearby in England, but has spent the last 16 years of his life in New York City. His wife Jane was the manager of a non-profit in New York City and really has no desire to fit into the community in England. Her children embrace life in the village, although a few are initially hesitant. While she's trying to paint a pantry, she discovers an old shopping list belonging to the former vicar's wife and becomes intrigued by it. She wants to learn as much about the woman who wrote that list as possible. I liked the historic story more than the modern story, but primarily because I just didn't really like the character of Jane that much. I loved her husband and kids and even the other locals, but I never really identified with Jane, probably because I can't imagine even considering doing the horrible things she did to harm her family because of her own selfish desires. This review is based on an electronic galley received by the publisher through NetGalley for review purposes.
Review by croknot1
16/06/2015
Loved the premise of the book, and the story was not a let-down. Moving from one person's life to another is often confusing, but not in this instance.The author does a terrific job. I will be reading more of her stories in the future...I hope.
Review by Lauigl
16/06/2015
This was a Library Thing, Early Reviewers book that I received in exchange for an honest review. I absolutely ADORED this book!! A book is worthy of a 5 star review from me if: 1) It makes me laugh and/or cry, 2) I can't put it down, or I can't wait to pick it up again, and 3) It causes me to pause throughout reading and reflect on lessons learned. This book covered all three points and thus I award it 5 stars. I loved the way the author told the story of two families living somewhat similar lives albeit decades apart. The story was always interesting and kept you wondering and guessing how things would turn out for both families. There was no foul language which is always a plus for me. I continue to say a great book does not need it. It was so refreshing to read such a charming and solid work of fiction after trying to get through recent books containing weak plots, spiritistic overtones, profanity and the like. This author has helped me to have faith that there are still very good storytellers out there, and she will stay on my radar. I could easily see this book made into a movie. I highly recommend this book.
Review by milibrarian
16/06/2015
Jane Hatton misses her home , friends, and job in New York City when she moves to England with her husband and three children. The weather is cold, rainy, windy, and depressing; her 14 year old daughter is sullen; and Jane hates the cold, drafty vicarage her husband has purchased. To top it off, she has no friends and cannot even talk to her husband about her feelings.Then she finds an old shopping list created in the the 1930's by the then vicar's wife Alice James. Jane becomes interested in the life of this previous occupant. As she continues to struggle with her new life and surroundings, we also learn of Alice's struggles and griefs as a a young wife. The two women's lives parallel , and even occasionally mirror each other, as they face the challenges of two very different times--the present day and the years leading up to and through the early years of World War II.This easy to read, interesting book focuses on the importance of family and perseverance in the face of difficulties. Katherine Swartz does a great job of capturing the joys, heartaches, and emotions of these two women, creating characters who are realistic and growing in their lives.
Review by bookgirl59
23/09/2015
Like two books in one, The Vicar's Wife tells the stories of past and present women who live in a house in a remote area. It describes their struggles to fit in and make a life for themselves. Even though the main woman Jane is nothing like me I felt myself relating to her as she tries to adjust to her new life. I think the story speaks to all who have ever felt isolated from others and gives us hope that eventually we too can make it all work.