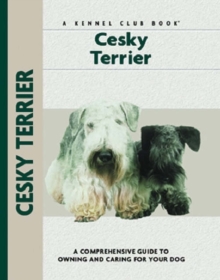 Description
Devised by Dr. Frantisek Horak, a top-ranked geneticist from the Czech Republic, the Cesky Terrier is one dog world's best kept secrets and one of the few terrier breeds that did not derive from the British Islands.
This modern creation is a rare combination of beauty and ability, a "small, slim and elegant" terrier that is a true go-to-ground working dog. Originally devised from crosses of the Scottish and Sealyham Terriers, today's Cesky Terrier is a purebred dog through and through, recognized by the American Kennel Club and all of the world's major registries. The author, Katherine Eckstrom is the heiress apparent of Dr. Horak, having cooperated with the famous geneticist before his death and continuing to breed his dream dogs from his original line of Czech dogs.
Mrs. Eckstrom is the world authority of the Cesky Terrier, an American breeder who is highly respected in the Czech Republic and around the world.
This offers a comprehensive history of the Cesky Terrier, from the creation of the breed in Europe to its rise in today's world of purebred dogs.
In discussing the breed's characteristics, the author presents an interview with Dr. Horak, thus providing the most authoritative account of the breed's desirable physical traits and personality and an explanation of the breed standard New owners will welcome the well-prepared chapter on finding a breeder and selecting a health, sound puppy.
Chapters on puppy-proofing the home and yard, purchasing the right supplies for the puppy as well as house-training, feeding, and grooming are illustrated with handsome adults and puppies bursting with energy and personality!
In all, there are over 135 photographs in this compact, useful, and reliable volume.
The author's advice on obedience training the Cesky Terrier will help readers better mold and train their dogs into the most socialized, well-mannered purebred dog in the neighborhood.
The extensive chapter on healthcare provides detailed information on selecting a qualified veterinarian, vaccinations, parasites, infectious diseases, and more.
Sidebars throughout the text offer helpful hints, covering topics as diverse as toxic plants, bloat, first aid, crate training, carsickness, fussy eaters, and parasite control.
Fully indexed.
Information
Format: Hardback
Pages: 155 pages
Publisher: Kennel Club Books Inc
Publication Date: 01/04/2005
Category: Dogs as pets
ISBN: 9781593783570
Free Home Delivery
on all orders
Pick up orders
from local bookshops
Also by Katherine A. Eckstrom