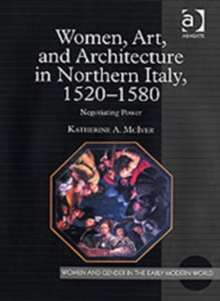 Women, Art, and Architecture in Northern Italy, 1520-1580 : Negotiating Power
Hardback
Description
Expanding interdisciplinary investigations into gender and material culture, Katherine A.
McIver here adds a new dimension to Renaissance patronage studies by considering domestic art - the decoration of the domestic interior - as opposed to patronage of the fine arts (painting, sculpture and architecture).
Taking a multidimensional approach, McIver looks at women as collectors of precious material goods, as organizers of the early modern home, and as decorators of its interior.
By analyzing the inventories of women's possessions, McIver considers the wide range of domestic objects that women owned, such as painted and inlaid chests, painted wall panels, tapestries, fine fabrics for wall and bed hangings, and elaborate jewelry (pendant earrings, brooches, garlands for the hair, necklaces and rings) as well as personal devotional objects.
Considering all forms of patronage opportunities open to women, she evaluates their role in commissioning and utilizing works of art and architecture as a means of negotiating power in the court setting, in the process offering fresh insights into their lives, limitations, and the possibilities open to them as patrons.
Using her subjects' financial records to track their sources of income and the circumstances under which it was spent, McIver thereby also provides insights into issues of Renaissance women's economic rights and responsibilities. The primary focus on the lives and patronage patterns of three relatively unknown women, Laura Pallavicina-Sanvitale, Giacoma Pallavicina and Camilla Pallavicina, provides a new model for understanding what women bought, displayed, collected and commissioned.
By moving beyond the traditional artistic centers of Florence, Venice and Rome, analyzing instead women's artistic patronage in the feudal courts around Parma and Piacenza during the sixteenth century, McIver nuances our understanding of women's position and power both in and out of the home.
Carefully integrating extensive archival
Information
Format: Hardback
Pages: 300 pages
Publisher: Taylor & Francis Ltd
Publication Date: 28/02/2006
Category: Renaissance art
ISBN: 9780754654117
Other Formats
Paperback / softback from £33.95
EPUB from £34.19
PDF from £34.19
Also in the Women and Gender in the Early Modern World series | View all