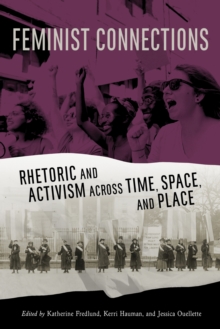 Feminist Connections : Rhetoric and Activism across Time, Space, and Place
Hardback
Description
Highlights feminist rhetorical practices that disrupt and surpass boundaries of time and space In 1917, Alice Paul and other suffragists famously picketed in front of the White House while holding banners with short, pithy sayings such as "Mr. President: How long must women wait for Liberty?" Their juxtaposition of this short phrase with the image of the White House (a symbol of liberty and justice) relies on the same rhetorical tactics as memes, a genre contemporary feminists use frequently to make arguments about reproductive rights, Black Lives Matter, sex-positivity, and more.
Many such connections between feminists of different spaces, places, and eras have yet to be considered, let alone understood.
Feminist Connections: Rhetoric and Activism across Time, Space, and Place reconsiders feminist rhetorical strategies as linked, intergenerational, and surprisingly consistent despite the emergence of new forms of media and intersectional considerations. Contributors to this volume highlight continuities in feminist rhetorical practices that are often invisible to scholars, obscured by time, new media, and wildly different cultural, political, and social contexts.
Thus, this collection takes a nonchronological approach to the study of feminist rhetoric, grouping chapters by rhetorical practice rather than time, content, or choice of media. By connecting historical, contemporary, and future trajectories, this collection develops three feminist rhetorical frameworks: revisionary rhetorics, circulatory rhetorics, and response rhetorics.
A theorization of these frameworks explains how feminist rhetorical practices (past and present) rely on similar but diverse methods to create change and fight oppression.
Identifying these strategies not only helps us rethink feminist rhetoric from an academic perspective but also allows us to enact feminist activist rhetorics beyond the academy during a time in which feminist scholarship cannot afford to remain behind its hallowed yet insular walls.
Information
Format:Hardback
Pages:312 pages, 12 black & white figures, 1 table
Publisher:The University of Alabama Press
Publication Date:30/10/2020
Category:
ISBN:9780817320645
Also in the Rhetoric Culture and Social Critique Series series | View all