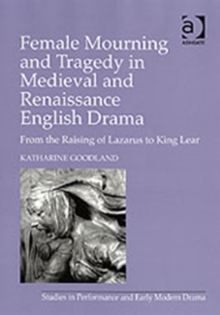 Female Mourning and Tragedy in Medieval and Renaissance English Drama : From the Raising of Lazarus to King Lear
Hardback
Description
Grieving women in early modern English drama, this study argues, recall not only those of Classical tragedy, but also, and more significantly, the lamenting women of medieval English drama, especially the Virgin Mary. Looking at the plays of Shakespeare, Kyd, and Webster, this book presents a new perspective on early modern drama grounded upon three original interrelated points.
First, it explores how the motif of the mourning woman on the early modern stage embodies the cultural trauma of the Reformation in England.
Second, the author here brings to light the extent to which the figures of early modern drama recall those of the recent medieval past.
Finally, Goodland addresses how these representations embody actual mourning practices that were viewed as increasingly disturbing after the Reformation. Female Mourning and Tragedy in Medieval and Renaissance English Drama synthesizes and is relevant to several areas of recent scholarly interest, including the performance of gender, the history of emotion, studies of death and mourning, and the cultural trauma of the Reformation.
Also in the Studies in Performance and Early Modern Drama series | View all