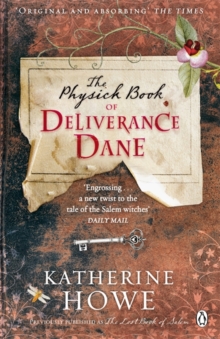 The Physick Book of Deliverance Dane
Paperback
Description
While clearing out her grandmother's cottage for sale, Connie Goodwin finds a hidden parchment inscribed with the name Deliverance Dane. And so begins the hunt to uncover the woman behind the name, a hunt that takes her back to Salem in 1692 . . . and the infamous witchcraft trials. But nothing is entirely as it seems and when Connie unearths the existence of Deliverance's spell book, the Physick Book, the situation takes on a menacing edge as interested parties reveal their desperation to find this precious artefact at any cost.
What secrets does the Physick Book contain? What magic is scrawled across its parchment pages? Connie must race to answer these questions - and reveal the truth about Salem's women - before an ancient family curse once more fulfils its dark and devastating prophecy . . .Previously published in the UK as The Lost Book of Salem
Information
Format: Paperback
Pages: 480 pages
Publisher: Penguin Books Ltd
Publication Date: 01/03/2010
ISBN: 9780141047553
Free Home Delivery
on all orders
Pick up orders
from local bookshops
Reviews
Showing 1 - 5 of 5 reviews.
Review by reannon
16/06/2015
Story alternates between that of Connie Goodwin, doctoral student in history at Harvard in 1991, and that of Deliverance Dane in late 17th century Salem and her descendants. Connie needs to find a primary source for her dissertation, and while trying to clean up her grandmother's long-abandoned house, finds clues that Deliverance Dane might have had a spell book and be an unknown witch killed at Salem.I had seen this book highly recommended, and so my expectations were high. It lived up to them. Connie is a good character, and the past stories are told well with a strong sense of place and time.
Review by herebedragons
16/06/2015
I enjoyed this book. It was recommended to me as a genealogy-related story, and it lived up to this reputation. The story follows the lives of a line of women, beginning with Deliverance Dane who lived in Massachusetts during the time of the Salem witch trials, and culminates with a modern PhD candidate in Colonial history, who finds some surprised when she starts looking into the history of her own family. While there were some areas where the mystery was weak (sometimes the main character in the present day was unbelievably slow to pick up on clues), on the whole, the story developed nicely, and there were a couple of fun surprises along the way. Like I said, I enjoyed this book, and would recommend it, especially to those who enjoy genealogy or history.
Review by Carpe_Librum
16/06/2015
It's 1991 in Massachusetts and Connie is a Harvard graduate student studying history when her mother phones and asks for a favour. After reluctantly accepting, Connie travels to Marblehead (near Salem) to put her Grandmother's affairs in order and sell the house. The neglected house has been empty and locked up for decades and is partly concealed by the out of control garden. When exploring one of the dusty bookshelves, Connie finds an old key hidden inside a family bible. Hidden inside the key is a tiny piece of parchment with Deliverance Dane written in script. Connie is curious and begins a lengthy search to find out more about Deliverance Dane.Meanwhile, the book alternates between 1991 and the 17th Century where the reader is thrust into the lives of Deliverance Dane and her descendants.Connie discovers that Deliverance Dane was accused of being a witch during the time of the Salem witch trials, and thanks to a legal document referencing a recipe book, Connie starts to track down this physick book. Will it contain remedies to cure ills and sickness or will it contain magic and spells?Connie's advisor is obsessed with the study of alchemy and is after the book for his own twisted reasons and a Steeplejack enters the scene who may be able to offer some help.The Physick Book of Deliverance Dane is part mystery, part historical fiction and I would have preferred more time spent in the 17th Century. This is a contemporary novel with a hint of magic and it will appeal to many readers.
Review by esoldra
16/06/2015
Like another reviewer stated, there was also a desire here for me to want to like this book. It had such a great deal of promise, and to that extent it therefore let me down all the more. It is evidently written by someone who has just gone through the graduate school process and page after page goes on about the process of studying for a phd proposal. The characters throughout are distant and two dimensional and the writing is far from gripping. There is no sense of suspense and you continue reading hoping something big will happen when in fact it is a bit of a non starter. You hope to have some immersion into the historical past of the Salem Trials, you don't get that at all. I was very disappointed with this book.
Review by passion4reading
16/06/2015
Graduate student Connie Goodwin studies for a history degree at Harvard and gets grudgingly sent to Marblehead, Mass., by her mother to clear out her grandmother's cottage ready for sale. There she discovers a key within the ancient bible which reveals the name of Deliverance Dane. With the help of a young local steeplejack called Sam she discovers that Deliverance Dane was accused of witchcraft in the infamous Salem witchcraft trials.In my opinion it really shows that this is a first novel. The (modern-day) characters are pale and under-developed and the plot very predictable. I could guess Connie's heritage from very early on and it didn't take much imagination as to who the villain of the piece was either; having read the blurb on the back cover, I also knew that something unpleasant was in store for Sam, but I could take no pleasure at having been proven right. The author's attempts to write the romantic parts of the story left me cringing, and I was reminded of Mills & Boon novels: skin a-tingle under the other person's touch, frolicking in the sea at night, and "a deep kiss that lasted until the orange curtain of the setting sun had been pulled completely away to reveal the stars glimmering overhead." The descriptions of Connie performing incantations, with blue light emanating from her hands, in my opinion was also stretching credibility a little too far, not to mention the dog who could disappear literally into thin air and reappear at will. That said, the historical component of the novel was substantially better, the author, not surprising given her background, having researched her subject meticulously. The historical characters and their environment seem much more alive than their modern-day counterparts, and the descriptions of the trials are genuinely gripping, which is more than can be said for the present-day narration. At times I did feel that maybe she was just trying a little bit too hard to get historical facts and opinions across and it didn't feel part of a natural exchange but rather a showing-off of knowledge; as Sam aptly puts it at one point:" You still haven't come back from orals-land, have you?" As to the physick book of the title, did Radcliffe college let her just borrow and take it home like any ordinary public lending library, a unique and presumably valuable book from the middle of the 17th century? I think not. Let's hope the follow-up will be better.