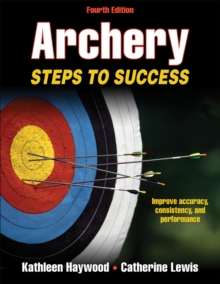 Archery 4th Edition : Steps to Success
Paperback
Description
Strike gold with this latest addition to our bestselling Steps to Success range.
You can master the skills, techniques and strategies necessary to shoot accurately, consistently and safely.
Archery, Steps to Success is packed with progressive instruction and accompanying full-colour photographs.
This unique resource contains exercises for each phase of the shot-stance, draw, aim, release and follow-through - for both recurve and compound bows.
Whether new to the sport or an experienced competitor, this manual will help readers learn and improve all aspects of the sport.
As part of the popular Steps to Success Series, Archery certainly strikes gold when it comes to comprehensive archery instruction.
Information
Format: Paperback
Pages: 280 pages, 25 Illustrations, color; 186 Halftones, color
Publisher: Human Kinetics Publishers
Publication Date: 08/11/2013
Category: Archery
ISBN: 9781450444682
Free Home Delivery
on all orders
Pick up orders
from local bookshops
Reviews
Showing 1 - 3 of 3 reviews.
Review by hadden
16/06/2015
An excellent work, and one that I wish I had been able to use when I started archery many years ago. There are many helpful hints here for those picking up the hobby. Also there are many steps to make archery more precise and less of a slap-dash sport that I first learned.This being said, there are some changes I would recommend for new editions. There is no index. There is a glossary of archery terms, but it is limited, and the traditional word "cock feather" for example is only used with the more modern term of "index feather." The bibliography or "References", in a word, sucks with only three entries. For a book that is designed as a text for archery classes, these academic violations are remarkable.There is an excellent section on determining the dominant eye for shooting, but other information on archery for left-handers is scattered throughout. There are also some excellent photos on left handers shooting and aiming as well. But a single section or chapter on left handed shooting would be a better use of the text.The photos need some attention as well. Some of them have diagrams drawn over the subject with dark lines, but which are invisible (and thus miss the mark!) when the subject is wearing dark clothes. The captions also need more explanatory text and describe in more detail what is shown.There is an excellent chapter on bowhunting, but most of the text is concerned with target competition. The sections on mental preparation for competition is good for many other sports as well. There is little about bow fishing, and a discussion about field archery is also scattered throughout the text.However, most of these are also problems of editing and publication. I hope the fifth edition will see an index, and an improved glossary, and an improved bibliography, better captions and tightened text. Nevertheless, this is a good textbook for teaching the sport of archery. However, it can be better still.
Review by SquirrelHead
16/06/2015
If you are interested in archery but do not have any experience with handling the equipment, do not know a proper stance or are a beginner in the sport – this would be a good book to start with.This book takes you step-by-step through the basics of learning about archery. Filled with great hints and illustrations this will guide you into the hobby in easy to understand terms. As stated in the beginning of the book, you are meant to follow each chapter in order as every lesson leads you through points which build on the following chapters.Great beginners book for this hobby.
Review by Beartracker
27/08/2015
If you want to take up the sport of archery, or even if you are an experienced archer, I highly recommend this book. It contains detailed information on just about every aspect of the sport of archery. Everything is thoroughly covered here. Selecting and properly fitting your equipment, safety equipment, accessories for your bow, fine-tuning your shots, perfecting your T-form, training and practice, competition, and more – it's all here. There are sections at the end of each chapter with activities you can do, with or without a partner, to improve different aspects of your shooting skill. These sections allow you to score yourself so you can see areas where you need to practice more, or need to improve. The book contains copious full-color diagrams and photos that help illustrate points made in the test. I think the graphics are well-chosen and do not just add "fluff." They are really useful and complement the text. I have noticed in other texts that graphics can be over-used and not helpful, but that is not the case here. In fact, some of the graphics are there for you to use when scoring your own shots, so that you can see where you need to make adjustments. The authors both seem like very experienced archers with in-depth knowledge of the sport. Overall, I enjoyed reading this book and learning how to increase my success with archery. I tried out some of the exercises and I did see improvement in my scores, as well as in my skill level. (I'm a beginner and have plenty to learn.) I plan to continue using the information in this book to improve my archery skills. It is written so that you can use it to train yourself, or to work with a partner. I recommend this book to anyone who wants to learn archery, works at a summer camp, coaches archery, or just wants a fun outdoor activity to do with your family.