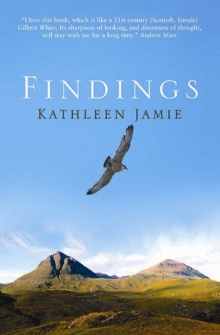 Description
It's surprising what you can find by simply stepping out to look.
Award-winning poet Kathleen Jamie has an eye and an ease with the nature and landscapes of Scotland as well as an incisive sense of our domestic realities.
In Findings she draws together these themes to describe travels like no other contemporary writer. Whether she is following the call of a peregrine in the hills above her home in Fife, sailing into a dark winter solstice on the Orkney islands, or pacing around the carcass of a whale on a rain-swept Hebridean beach, she creates a subtle and modern narrative, peculiarly alive to her connections and surroundings.
Information
Format: Paperback
Pages: 208 pages
Publisher: Sort of Books
Publication Date: 01/06/2005
Category: Travel writing
ISBN: 9780954221744
Free Home Delivery
on all orders
Pick up orders
from local bookshops
Reviews
Showing 1 - 3 of 3 reviews.
Review by silvercowrie
16/06/2015
This is a series of essays by an accomplished Scottish writer and poet. Her essays describe what she sees and finds when she looks, whether that is on a wild windswept Hebridean beach or walking through Georgian Squares in Edinburgh. Beautifully written and a real find.
Review by dsc73277
16/06/2015
This is a book set mostly, but not entirely in the Scottish countryside. It does also include chapters about the rooftops of Edinburgh and one of that city's more unusual museums, Playfair Hall. The latter chapter was actually my least favourite, perhaps because it is about a museum containing human body parts and I'm the kind of person who can't even look when there are medical dramas on television. My first impression was that it stood out as odd in a book that might otherwise have found an obvious home in the nature section of libraries and bookshops. On deeper reflection the chapter is not a misfit, because this is also a book about collections and because mankind is part of nature too.Jamie goes out, observes what she finds and writes about in beautifully crafted prose. You don't need to read the jacket notes to figure out that she has also won awards for her poetry. This is self-evidently the sort of prose you would expect a poet to produce. I read much of it quite slowly in order to soak in the richness of the words and the observations they convey. Some of the metaphors are superb.She starts by lamenting the metaphorical link between darkness and evil, which has become so deeply ingrained in our psyche that we miss any positives that darkness might offer. As someone who much prefers the brightness of day, I wasn't entirely convinced by the argument but I enjoyed the journey.Another favourite section related to the human-bred salmon who failed to return to their breeding ground because, in order to facilitate scientific experiments, they had been deliberately hatched in a stretch of river above waterfalls they would not be able to leap. The wisest fish were not those strong enough to persist in trying to jump, but those who gave up: "Not the survival of the fittest ... but the survival of the ones who give it up as a bad job and settle someplace quiet. A small life in the suburbs. Salmon wisdom." Lowering are targets a little and learning to live with a little less, now there's a message for our times.
Review by theforestofbooks
16/06/2015
I read this book last year, and of late I've been feeling the pull of nature and wanted something to ease me back into the nature's embrace. This is definitely a book that accomplishes that. Each chapter deals with different aspects of nature, from the landscape to specific birds. The beauty of this book is the author's use of language. Her prose has a poetic rhythm to it which enhances how she sees the natural world. "Crouched in the grass like intelligent stones are half a dozen brown hares." This gives the reader not only a detailed account of the author's encounter but also a full appreciation for nature. Fascinating.