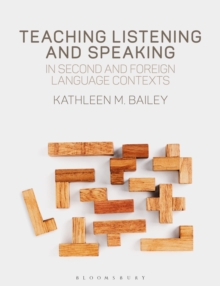 Teaching Listening and Speaking in Second and Foreign Language Contexts
Paperback / softback
Description
This book guides language teachers in planning and teaching activities that promote the development of speaking and listening skills at all levels of target language proficiency, for teachers of any modern language. Kathleen M. Bailey draws on her extensive experience as a language teacher, teacher educator, and language learner to interweave practical activities with the research and theory that support their use.
Activities include the use of pictures, songs, drama techniques, tasks, and projects to promote the development of speaking and listening skills.
The author shares reflections of her own and encourages readers to reflect on their own experiences and become aware of their existing mental constructs through multiple reflection tasks and discussion questions. Each chapter provides focusing questions. The systematic chapter structure scaffolds the readers' understanding of the concepts explored, which include communication strategies, interactive and non-interactive listening, speaking anxiety, accentedness and intelligibility, and much more.
Through its companion website this book provides access to resources that enable readers to continue their own professional development as teachers of listening and speaking in second and foreign language contexts.