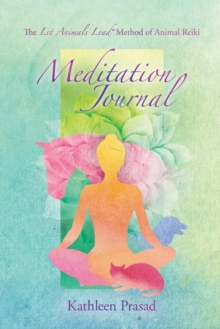 The Let Animals Lead(R) Method of Animal Reiki Meditation Journal
Paperback / softback
Description
"Beautiful and insightful!" --David Michie, author of The Dalai Lama's CatFrom the creator of Animal Reiki Source and President of the Shelter Animal Reiki Association, this is an indispensable journal for becoming a healing force in the world...for animals.
While most Reiki books share history, information and/or anecdotes, The Let Animals Lead® Animal Reiki Journal offers writing prompts and real-life exercises that will retrain your mind to focus on compassion, gratitude and positivity, even in difficult circumstances.
If you're an animal lover or Reiki practitioner who wants to connect more deeply with animals in your life, this book is for you!If you find worry creeping in when supporting sick animals, the problem isn't with your emotions.
It's that you haven't yet realized the deepest strength of your meditation practice. Whether you want to rediscover the sacred nature of the human/animal relationship, become a rock of stability for animals in your life or find joy and ease in your meditation practice, The Let Animals Lead® Animal Reiki Journal will show you the way.
You'll learn: • Meditation techniques that will help you connect to animals more easily. • How to radiate peace and calm even in the most stressful situations. • How to let animals guide you towards living with more balance and harmony. This is more than just a personal diary. It's a transformative journey towards living in alignment with your truth, with compassion for animals and with connection to our world.
Information
Format:Paperback / softback
Pages:306 pages
Publisher:Kathleen Prasad
Publication Date:01/06/2020
Category:
ISBN:9780998358055