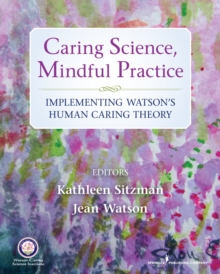 Caring Science, Mindful Practice : Implementing Watson's Human Caring Theory
Paperback / softback
Description
This is the first text to help students and practicing nurses translate and integrate the philosophy and abstracts of Caring theory into everyday practice.
It was developed for use as the primary text for an online caring theory course that will be offered through the Watson Caring Science Institute in October 2013.
Through case examples and guiding activities, the book helps students and practitioners to more fully comprehend the meaning and use of each Caritas Process.
It draws upon the contemplative and mindfulness teaching of Thich Nhat Hahn, a renowned Buddhist monk, poet, author, teacher, and peace activist.
Each of the ten Caritas Processes are clearly presented by the author and accompanied by guided mindfulness and artistic practices to support learning and absorption of the method.
These artistic practices include the use of images, art, metaphors, and expressive symbols that are designed to promote meaningful introspection and self-awareness-the underpinnings of genuine Caritas practice.
The book reflects several years of teaching by the author, who has been invited by several large health care institutions (including Kaiser-Permanente) to provide training based on her materials.
Key Features: Helps students and practitioners to integrate the philosophy and abstracts of Caring theory into clinical practiceOffers case studies and guided activities to reinforce contentDraws upon the contemplative and mindfulness teachings of Thich Nhat HahnIncludes concrete guided mindfulness and artistic practices for each of the ten Caritas ProcessesDesigned for a wide audience including undergraduate, graduate and international nursing students
Information
Format: Paperback / softback
Pages: 176 pages
Publisher: Springer Publishing Co Inc
Publication Date: 30/09/2013
Category: Nursing specialties
ISBN: 9780826171535
Other Formats
Paperback / softback from £50.95