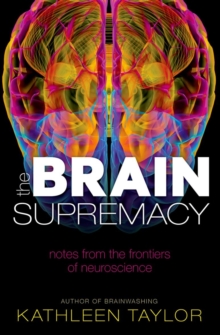 The Brain Supremacy : Notes from the frontiers of neuroscience
Paperback / softback
Description
In a world full of science, the balance of power between sciences is changing.
Advances in physics, chemistry, and other natural sciences have given us extraordinary control over our world.
Now the younger sciences of brain and mind are applying the scientific method not only to our environments, but to us.
In recent years funding and effort poured into brain research.
We are entering the era of the brain supremacy. What will the new science mean for us, as individuals, consumers, parents and citizens?
Should we be excited, or alarmed, by the remarkable promises we read about in the media - promises of drugs that can boost our brain power, ever more subtle marketing techniques, even machines that can read minds?
What is the neuroscience behind these claims, and how do scientists look inside living human brains to get their astonishing results?
The Brain Supremacy is a lucid and rational guide to this exciting new world.
Using recent examples from the scientific literature and the media, it explores the science behind the hype, revealing how techniques like fMRI actually work and what claims about using them for mindreading really mean.
The implications of this amazingly powerful new research are clearly and entertainingly presented.
Looking to the future, the book sets current neuroscience in its social and ethical context,as an increasingly important influence on how all of us live our lives.
Information
Format: Paperback / softback
Pages: 384 pages, 20 black and white images and 5 colour images
Publisher: Oxford University Press
Publication Date: 28/08/2014
Category: Popular science
ISBN: 9780199683857
Other Formats
PDF from £8.44
EPUB from £8.44