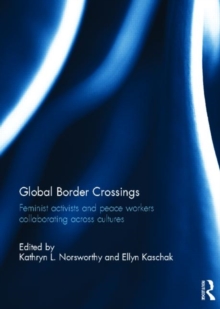 Global Border Crossings : Feminist Activists and Peace Workers Collaborating Across Cultures
Hardback
Description
This book brings together a group of feminist activists, psychologists, and peace workers from countries on every continent who describe how they apply global/transnational feminism in their activist peace and justice projects in the cultures and countries in which they live and work.
The contributors, who are from different locations in the "global village", reflect on their engagement in Global South/North border crossings and partnerships, taking into consideration such variables as the gender, economic/class, ethnic, racial, political and imperializing/colonizing tensions inherent in the work.
Authors discuss the feminist principles that guide their work, describe a project or set of projects illustrating how they apply feminist theory and practice, and reflect on the complexitites, tensions and conundrums inherent in negotiating cross-national feminist partnerships in research, practice, and activism. This book was originally published as a special issue of Women & Therapy.
Free Home Delivery
on all orders
Pick up orders
from local bookshops