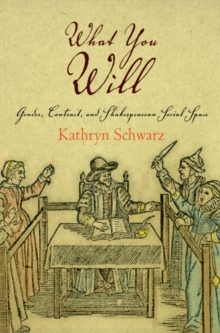 What You Will : Gender, Contract, and Shakespearean Social Space
Hardback
Description
In What You Will Kathryn Schwarz traces a curious pattern in sixteenth- and seventeenth-century representations of femininity: women pose a threat when they conform too willingly to social conventions.
Exemplary texts describe chaste women who kill their rapists, constant wives who make marriage a debilitating obligation, and devoted mothers who destroy the fitness of children.
These cautionary tales draw attention to the more ordinary, necessary choices that take prescribed roles as a mandate for purposeful acts.
For early modern narratives, writes Schwarz, intentional compliance poses a complex problem: it sustains crucial tenets of order and continuity but unsettles the hierarchical premises from which those tenets derive.
Feminine will appears as a volatile force within heterosociality, lending contingent security to a system that depends less on enforced obedience than on contract and consent. The book begins with an examination of early modern disciplines that treat will as an aspect of the individual psyche, of rhetoric, and of sexual and gendered identities.
Drawing on these readings, Schwarz turns to Shakespearean works in which feminine characters articulate and manage the values that define them, revealing the vital force of conventional acts.
Her analysis engages with recent research that has challenged the premise of feminine subordination, both by identifying alternative positions and by illuminating resistance within repressive structures.
Schwarz builds on this awareness of disparate modes and sites of action in formulating the book's central questions: With what agency, and to what effect, do feminine subjects inhabit the conventions of femininity?
In what sense are authenticity and masquerade inseparable aspects of social performance?
How might coercive systems produce effective actors?
What possibilities emerge from the paradox of prescribed choice?
Her conclusions have implications not only for early modern scholarship but also for histories of gender and sexuality, queer studies, and theories of the relationship between subjectivity and ideological constraint.
Information
Format: Hardback
Pages: 320 pages, 12 illus.
Publisher: University of Pennsylvania Press
Publication Date: 24/06/2011
Category: Shakespeare studies & criticism
ISBN: 9780812243277
Free Home Delivery
on all orders
Pick up orders
from local bookshops
Also by Kathryn Schwarz