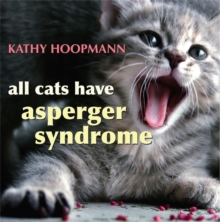 All Cats Have Asperger Syndrome
Hardback
Description
All Cats Have Asperger Syndrome takes a playful look at Asperger Syndrome (AS), drawing inspiration from the feline world in a way that will strike a chord with all those who are familiar with AS. Delightful colour photographs of cats bring to life familiar characteristics such as sensitive hearing, scampering at the first sign of being stroked, and particular eating habits. Touching, humorous and insightful, this book evokes the difficulties and joys of raising a child who is different and leaves the reader with a sense of the dignity, individuality, and potential of people with AS. This engaging book is an ideal, gentle introduction to the world of AS. 'There is a great deal of truth in humour. If you have only just begun to discover why someone with Asperger's syndrome is different, this book will inform and entertain you.
The descriptions provide an accurate balance between the qualities and difficulties associated with Asperger's syndrome, while the photographs will make the journey of discovery enjoyable and remarkable.' - Tony Attwood, author of Asperger's Syndrome and The Complete Guide to Asperger's Syndrome
Information
Format: Hardback
Pages: 72 pages, 73 photographs
Publisher: Jessica Kingsley Publishers
Publication Date: 04/10/2006
Category: Coping with illness
ISBN: 9781843104810
Free Home Delivery
on all orders
Pick up orders
from local bookshops
Reviews
Showing 1 - 5 of 11 reviews.
Previous | Next
Review by kaelirenee
16/06/2015
I normally dispise cutesy books like this and I am not really a cat person. But I saw this and started flipping through it, nodding my head-almost crying in the Barnes and Nobles. It's such a well-written, simple book that is very heartwarming, charming, and funny. It makes finding more things to love about my son so much more fun! I've given this book as a gift to several family members to explain AS to them in a way that reminds them that there are wonderful things about my son, many of them can even be attributed to his AS. It's very positive. I also recommend this one to teachers of inclusion classes who will have a child with an ASD in their classroom, to help them and their students know what to expect in their new classmate.
Review by peelprovince
16/06/2015
This is the most extraordinary book; it simplifies the complex condition of aspergers in a unique way. The eyes of a cat portray it beautifully.
Review by SmithSJ01
16/06/2015
A superb little book. I actually bought it for a friend for her birthday, we both work with children who have Aspergers and also is a cat lover - so it was spot on for a gift. I've got to admit having a sneaky read though before wrapping it up (but I did tell her!). It's so informative and entertaining all at the same time. It would serve a purpose to share with parents who have just received a diagnosis or who have their suspicions. Therefore it is great to share with children as well - the pictures of the kittens actually tell the story more than the text does. The information is accurate yet presented in a non-threatening way. Excellent for those who are experiencing this form of special needs, are wanting to find out all about it or who work in this field. That brings me to the pictures. They are high quality glossy images that are simply adorable but when linked with the text accentuates what is being passed on.
Review by Placebogirl
16/06/2015
This book is designed to educate about asperger syndrome, but is actually a pretty cute and funny book about cats too.
Review by Lovez2read
16/06/2015
A wonderful and cute way to explain someof the characteristics of Aspergers Syndrome. The adorable pictures of kitties and the cute prose in this book kept me giggling until the end.