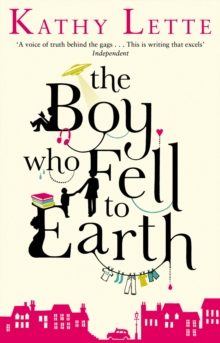 The Boy Who Fell To Earth
Paperback
Description
Meet Merlin. He's Lucy's bright, beautiful son - who just happens to be autistic.
Since Merlin's father left them in the lurch, Lucy has made Merlin the centre of her world.
Struggling with the joys and tribulations of raising her adorable yet challenging child (if only Merlin came with operating instructions), Lucy doesn't have room for any other man in her life.
By the time Merlin turns ten, Lucy is seriously worried that the Pope might start ringing her up for tips on celibacy, so resolves to dip a toe back into the world of dating.
Thanks to Merlin's candour and quirkiness, things don't go quite to plan...Then, just when Lucy's resigned to singledom once more, Archie - the most imperfectly perfect man for her and her son - lands on her doorstep.
But then, so does Merlin's father, begging for a second chance.
Does Lucy need a real father for Merlin - or a real partner for herself?
Information
Format: Paperback
Pages: 400 pages
Publisher: Transworld Publishers Ltd
Publication Date: 01/04/2013
ISBN: 9780552776820
Free Home Delivery
on all orders
Pick up orders
from local bookshops
Reviews
Showing 1 - 1 of 1 reviews.
Review by hashford
16/06/2015
Drawing from the author's own experiences of raising a child with Aspergers syndrome, this book is the fictional account of a mother struggling to bring up a boy with autism on her own after her husband (and father of the boy) leaves them soon after the problem is diagnosed. Lucy has devoted herself to bringing up her son, Merlin, for 10 years but now, supported and encouraged by her mother, she is anxious to build a life for herself, and starts dating again.Things don't go too well for her at first, but when Archie comes along things start to pick up. Until Merlin's father comes back and wants to be part of their lives again! Now Lucy has to make some hard decisions.Despite being rather "chick-lit-y", this book does attempt to address some serious issues around how we view (and even refer to) people with syndromes such as Aspergers – should we treat them as "handicapped" or can we find ways to reach out to their special potential? Lette cleverly uses the character of Merlin to take a sideways look at behaviours and attitudes we use without thinking and encourages us to question ourselves.The author uses humour, in the form of jokes and one-liners, to lighten the potentially grim and depressing subject matter. Whether this works for you, the reader, will be very much a matter of personal reaction – for me it rather grated.Personally, I didn't like Lette's writing style, I found the focus on Lucy's sex life tiresome and the humour simply didn't gel for me. Hence 3*s. However, this will be very much a matter of personal taste and I can understand why this book has received so many 4* and 5* reviews.