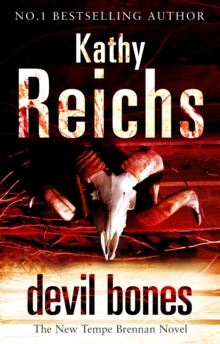 Devil Bones : (Temperance Brennan 11)
Hardback
Description
An underground chamber is exposed in a seedy, dilapidated house.
In the dark cellar, a ritualistic display is revealed: a human skull rests on a cauldron, surrounded by slain chickens and bizarre figurines.
Called to the scene is forensic anthropologist Dr Temperance Brennan.
Bone architecture suggests that the skull is that of a young, black female.
But how and when did she die? Just as Tempe is closing in on answers, another body is discovered, a headless corpse carved with Satanic symbols.
As local vigilantes begin a witch-hunt, Tempe struggles to contain her emotions.
But the eventual truth proves more shocking than even she could have imagined.
Information
Format: Hardback
Pages: 320 pages
Publisher: Cornerstone
Publication Date: 15/08/2008
Category: Crime & mystery
ISBN: 9780434014651
Other Formats
Paperback from £7.65
EPUB from £3.99
CD-Audio from £13.25
Free Home Delivery
on all orders
Pick up orders
from local bookshops
Reviews
Showing 1 - 2 of 2 reviews.
Review by riverwillow
16/06/2015
I love this series of books they have a resonance which is missing from the Patricia Cornwell books, and this is probably because Kathy Reichs is writing more or less about her own daily life. This story describes how press hysteria can grow from the slightest supposition. One small gripe is that this story is based completely in the USA and I miss the Canadian elements of previous stories as somehow these seem to be darker and more mysterious. Still an interesting read, and I've learned the difference between Santeria, Vodoo and Satanism amongst other things.
Review by bsquaredinoz
16/06/2015
I normally start out my reviews with a brief synopsis of events that take place in the first 40-50 pages of a book but in all honesty I can't think of more than a sentence to say about this one. Temperance Brennan, forensic anthropologist, is called in when a skull is found under the flooring of an old house in North Carolina. Nothing else that develops the plot in any meaningful way happens before page 75. There's a history lesson about the town of Charlotte, a swag of stultifying detail about Brennan's work life and some snippets about what she has to eat in her fridge but I'm pretty sure none of that is going to make anyone rush out to get this book.<br/><br/>The only word that seems to fit this book is dull. If pressed to expand I would, in Douglas Adams fashion, qualify that description by saying mostly dull. The first third of the book could have been written by anyone with access to Google. It's almost as if Brennan (or Reichs) is lecturing one of her undergraduate classes as she lists in minute detail the dimensions of the bones she has found, details the major deities of several religions and continues a frightfully uninteresting internal monologue about the object of 11 books worth of sexual tension. Yawn. The plot gets slightly better for the last two thirds but it's not even close to being gripping. I found myself skim-reading long passages of technical stuff and groaning at the portentous statement at the end of each chapter. The resolution to the mystery element was predictable and the final lecture on America's culture of fear was patronising.<br/><br/>In case you're wondering I have read Reichs before. In fact I've read all the books in this series. I rated the last one, <i>Bones to Ashes</i>, a 4 but the two installments prior to that only rated a 2 on my personal scale. The thing is I can't decide if Reichs' writing has deteriorated over the years or my reading tastes have altered during that same period. Maybe it's a little (or a lot) of both. In the past I've felt Reichs has had a genuine interest in exploring the topics she's used as the basis for her plots, such as in <i>Grave Secrets</i> which dealt with human rights abuses and 'the disappeared' of 1980's Guatemala. In <i>Devil Bones</i> it felt like she'd drawn voodoo out of a hat filled with random plot elements and threw in a few facts and figures alongside the dead bodies and danger. I'm firmly convinced the only person who had less interest in this book than I did is Reichs herself.<br/><br/>I'm done with this series.<br/><br/>
Also in the Temperance Brennan series | View all