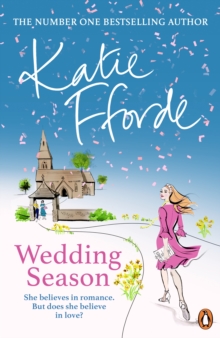 Description
All you need is love. A wonderfully romantic novel from the No. 1 Sunday Times bestselling author of Recipe for Love, A French Affair and The Perfect Match. Sarah Stratford is a wedding planner hiding a rather inconvenient truth - she doesn't believe in love. Or not for herself, anyway. But as the confetti flutters away on the June breeze of yet another successful wedding she somehow finds herself agreeing to organise two more, on the same day and only two months away.
Luckily Sarah has two tried and tested friends on hand to help her.
Elsa, an accomplished dress designer who likes to keep a very low profile, and Bron, a multi-talented hairdresser who lives with her unreconstructed boyfriend and who'd like to go solo in more ways than one.
As the big day draws near, all three women find that patience is definitely a virtue in the marriage game. And as all their working hours are spent preparing for the weddings of the year, they certainly haven't got any time to even think about love. Or have they?
Information
Format: Paperback
Pages: 480 pages
Publisher: Cornerstone
Publication Date: 12/03/2009
ISBN: 9780099502128
Free Home Delivery
on all orders
Pick up orders
from local bookshops
Reviews
Showing 1 - 3 of 3 reviews.
Review by millwheel
16/06/2015
I'm waiting for a flight in gate 5 at Heathrow Airport masking my fear of flying with the latest Katie Fforde. Or I'm lying in the bath with a gin at my elbow, and the latest Katie Fforde precariously balanced – a perfect way to forget a hard day at work! However, I was wary of the title of this one and I think Katie may have reached a new level of tweeness with Wedding Season. Never were the beautiful talented girls more unaware of their beauty and talent. Never did the well-educated men have such engaging smiles and crinkly eyes. Never were middle-England's mums so mumsy and middle-Englandish. The line between goody-goodiness and irresponsibility is carefully orchestrated – characters all drink a healthy amount of alcohol, but when our heroine has to drive unexpectedly after a party, it's carefully explained to us that she has only had HALF a glass of champagne AND a large plate of food – so that's ok!! There is sex after the second date, but only after the hero has responsibly produced a condom together with an explanation of just why he happened to have one with him in the first place, he really wasn't expecting anything, honest (cringe, I had to read that bit with my eyes half shut).I like Fforde, and other chick-liters/aga-sagaists for the easy-going flow that paints pretty pictures of sympathetic people in lovely places without requiring too much thought. But the problem is that although a little of what you fancy does you good, too much can make you feel quite sick, and by the time I got to the end of this one I did feel as if I'd overdone the milk chocolate. I wonder if I would feel slightly less nauseous if, on the last page, the heroine suddenly realises that she doesn't have time for the guy she met on the first page, because she wants to move to Tibet/find self-fulfilment through scuba-diving/rescue abandoned dogs. I will keep reading Katie Fforde and enjoying it and hating myself for enjoying it, even though she does what she does extremely well and should be very proud of what she has achieved, and anyway E M Forster (I think) once told readers that they should never be ashamed of what they read. However Wedding Season will never be one of my KF favourites, and on the whole I prefer her books with female characters that are slightly older, and possibly slightly heavier . . .
Review by magemanda
16/06/2015
I read a book of Fforde's a long while ago - believe the title was Highland Fling - and found it impossibly twee and very unrealistic. However, I'm usually prepared to give an author another go when they've written so many books in the hope that they've improved somewhat, so, when I saw this book cheap in a bookstore, I snapped it up.The thing is, there was nothing massively wrong with this book. The writing was pleasant and flowed effortlessly to the inevitable conclusion where everyone hooked up with everyone else in a suitably romantic fashion; the characters were, on the whole, pleasant individuals who you felt deserved happiness; and the plot, although very slight, was enough to keep the book romping along. Competent enough really.And yet all those factors were not enough to garner this book an additional star to bring it to an average rating (the home, I feel, of most chick lit endeavours). I think this is because everything was too neatly closed off. For instance, there was one protagonist - name of Bron (hmm, that wasn't a good sign - I've literally just finished the book and had to check up her name) - who seemed to be going it alone quite happily after the sudden end of her relationship (which was handily signposted to us about a chapter before it actually happened). She moved into a nice little cottage and was setting up a freelance hairdressing business - but apparently needed a man to complete the picture. It's almost as though Fforde is terrified of leaving a book finished without ensuring that all her women are paired off and safely in a relationship.Anyway, the thrust of this book is wedding planning, and the quite ludicrous situation that comes up when Sarah (the wedding planner, who, we must assume, is fairly knowledgeable about just how must work planning a wedding entails) agrees to take on a celebrity wedding with two months notice and also ends up planning her sister's wedding for the same day. Neither of the two can be moved. Neither of the two can be refused. Despite the fact she's just completed a wedding that took her TWO years to sort out! And her two new best friends - handily, a dress designer and a hairdresser/stylist/amazingly skilful cake-maker - pitch in to help out.As is usual, the man Sarah is destined to end up with shows up in the first couple of pages - and it couldn't be more obvious that the frivolous little 'obstacle' to their getting together is simply created to prevent them from heading into relationship bliss two hundred pages earlier. Why people can't just communicate properly in these books, I don't know.... but apparently meaningful glances and not sorting things out head on are the done thing.Hmm, I'm sounding just as cynical as the main character is purported to be! Don't get me wrong, I love DECENT chick lit. There is nothing better than losing yourself in an involving plot with three- dimensional characters, while cosily knowing that, whatever goes wrong in between times, the heroine and her perfect man will end up together. However, Fforde goes for the too-perfect ending and it is extremely false and cloying - as one of the other reviewers said, like eating too much milk chocolate (what a great description!)In this book, I particularly disliked Lily (Sarah's sister) and her continual whiny complaints about how her wedding had to be special even though she had no money, and how she wanted the perfect wedding gown but couldn't contemplate the idea that at five months pregnant she would have to be a little less choosy. I also found Fforde's attempts to give her a 'humourous' verbal tick (like mixing her metaphors) distinctly annoying and something that tailed off enormously quickly.Sadly, despite the fact that this author has a rather large back catalogue of books, I won't be making the effort with any more. One poor book can be forgiven. Two means that an author and I part ways. There is just too much good fiction out there to waste time with Katie Fforde.
Review by t.peggy
16/06/2015
I was disappointed in this book. I've enjoyed all the other Katie Fforde books, but this one..not.There were three characters the book revolved around. The first introduced - a wedding planner was not very appealing as a character.The other two were better, but still did not seem to come to life for me. I look forward to her next book, hopefully back to one main character who is sympathetic. I gave it two stars because I like some of the minor characters and liked the idea of a family property turned into a wedding venue