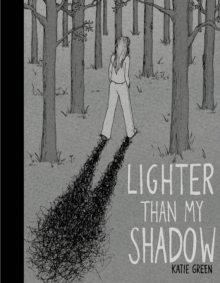 Lighter Than My Shadow
Paperback
Description
Like most kids, Katie was a picky eater. She'd sit at the table in silent protest, hide uneaten toast in her bedroom, listen to parental threats that she'd have to eat it for breakfast.
But in any life a set of circumstance can collide, and normal behavior might soon shade into something sinister, something deadly.
Lighter Than My Shadow is a hand-drawn story of struggle and recovery, a trip into the black heart of a taboo illness, an exposure of those who are so weak as to prey on the vulnerable, and an inspiration to anybody who believes in the human power to endure towards happiness.
Information
Format: Paperback
Pages: 516 pages
Publisher: Vintage Publishing
Publication Date: 01/10/2013
Category: Comics and Graphic Novels
ISBN: 9780224090988
Free Home Delivery
on all orders
Pick up orders
from local bookshops
Reviews
Showing 1 - 2 of 2 reviews.
Review by clfisha
16/06/2015
Beautifully drawn and stunningly told this is an autobiographical tale of mental illness, of anorexia, of growing up and the path to overcoming, to forgiving. A very realistic path, a slow one and sometimes a harsh one through early happy childhood to traumatic anorexia of teenage & collage years and the journey to get better. The relapse showed by sexual abuse of a therapist is as sensitively portrayed as it is deeply shocking.Green explores the journey, from early pressures on how we should look, the destructive use of perfectionism and the need to control. I don't think I have seen anorexia and eating disorders explained so well elsewhere. Of course this is also down to the artwork, not only lovely but so entwined with the story it tells: from the hungry mouth embedded within the stomach to the shadow of depression that hangs over or is locked deep inside. Pages change hue to reflect the emotion of the story, panels cluster and fracture apart. If it seems like a large chunkster it really isn't, this story needs much space to tell but hours to enjoy.Highly recommend. It is exactly what it needs to be, informative, understanding, heart breaking and kind.
Review by comixminx
16/06/2015
A heavy read in more senses than one - it's a large tome and physically imposing, on a subject that is hard to read.As a parent of youngish children I found myself reading it trying to spot things I should avoid doing in bringing them up - not the point though obviously not an invalid reaction. The thing that is scary and impressive is how the eating disorder didn't come out of any specific childhood trauma or any parental discouragement of weight gain or horrific schoolday bullying or anything that you could sensibly try to avoid as a parent. As a method of trying to control a sometimes scary and unpredictable world it came out of a reaction to the sorts of pressures that all of us face when growing up. That makes it even more scary - it's something that could happen to anyone, if you like, in the initial stages.One picky comment - I found it hard at various times to tell whether a word balloon was intended as a speech balloon or a thought balloon. The word balloons have thin and rather faint lines connecting them to the person speaking and it's easy not to notice these, or to have to look again at the though balloons to be sure there is no line. That lead me to wonder more than once whether some thoughts were spoken out loud or not. In a way that perhaps gives an unexpected extra effect in that to Katie those thoughts will have seemed so loud maybe they felt almost as if they were spoken out loud or could have been heard by others?