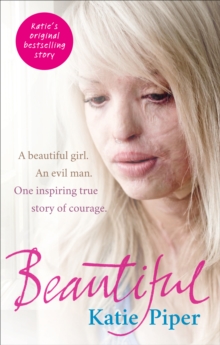 Beautiful : A Beautiful Girl. An Evil Man. One Inspiring True Story of Courage
Paperback
Description
'I heard a horrible screaming sound, like an animal being slaughtered ...then I realised it was me.' When Katie Piper was 24, her life was near perfect.
Young and beautiful, she was well on her way to fulfilling her dream of becoming a model.
But then she met Daniel Lynch on Facebook and her world quickly turned into a nightmare ...After being held captive and brutally raped by her new boyfriend, Katie was subjected to a vicious acid attack.
Within seconds, this bright and bubbly girl could feel her looks and the life she loved melting away.
Beautiful is the moving true story of how one young woman had her mind, body and spirit cruelly snatched from her and how she inspired millions with her fight to get them back.
Information
Format: Paperback
Pages: 320 pages
Publisher: Ebury Publishing
Publication Date: 17/02/2011
Category: Autobiography: general
ISBN: 9780091940768
Free Home Delivery
on all orders
Pick up orders
from local bookshops
Reviews
Showing 1 - 1 of 1 reviews.
Review by DonnaMcBroomTheriot
16/06/2015
"I'd never really thought much about God before. Mum and Dad weren't religious, and I'd never gone to church or read the Bible, but I tried to take some comfort in Alice's faith. For the first time in my life, I prayed to a God I'd never really believed in. 'Please help me. Please give me strength. Please show me a way to get through this.'"'Everything's going to be okay,' a voice in my head said. 'Your journey's just begun. You'll get through this.'"For the very first time since Danny had ripped my life apart, I felt hope flutter inside me. He wouldn't beat me. I wouldn't let him.""I barely registered Dad leading me back to the ward. I was enveloped in a shock so great I could scarcely breathe. I couldn't see the other patients or the nurses scurrying around – just that thing that had stared back at me from the mirror. It was like another head had been transplanted onto my body, one that I didn't recognize in the slightest. How could someone look like that? How could I look like that?""The police had agreed to put Danny in one of those glass boxes; he couldn't get me. he'd be locked inside." "In the last twelve months, I'd seen humanity at its worst, and its best, too. Had it made me a better person, deep down, underneath the scars?""…the judge's sentencing remarks, which had also been quoted in all the news stories: '[The victim] had a face of pure beauty. You, Danny Lynch and Stefan Sylvestre, represent the face of pure evil.""'The facts of this case are chilling and shocking. You planned and then executed an act of pure, calculated and deliberate evil. You decided to wreck the victim's life by thrusting a full container of sulphuric acid straight into her face from point blank range.'""'One of the hardest things about being disfigured is getting over how other people view or react to you.'"My Review:My Amazon records indicate that I purchased this book. I honestly don't remember. I only know that I am glad I found the book and read it. It is an amazing story of courage and how one young woman fought back to live. I think the book blurb and the quotes I use speak for themselves in recommending this book. Beautiful details how Katie set her life goals and worked hard towards attaining them, only to have them ripped from her. She fought through adversity and won. I recommend this book and even though I do not rate books, I give it 5 out of 5 stars.