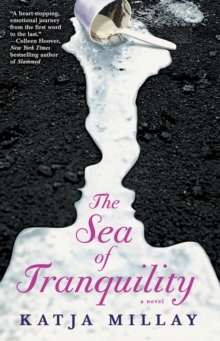 The Sea of Tranquility : A Novel
Paperback
Description
I live in a world without magic or miracles. A place where there are no clairvoyants or shapeshifters, no angels or superhuman boys to save you.
A place where people die and music disintegrates and things suck.
I am pressed so hard against the earth by the weight of reality that some days I wonder how I am still able to lift my feet to walk.Former piano prodigy Nastya Kashnikov wants two things: to get through high school without anyone learning about her past and to make the boy who took everything from her-her identity, her spirit, her will to live-pay.
All Josh Bennett wants is to be left alone, and everyone allows it because they all know his story: each person he loved was taken from his life until at seventeen years old there was no one left.
When your name is synonymous with death, people tend to give you your space.
Everyone except Nastya, a new girl in town who won't go away until she's insinuated herself into every aspect of his life.
But the more he gets to know her, the more of a mystery she becomes.
As their relationship intensifies and the unanswered questions begin to pile up, he starts to wonder if he will ever learn the secrets she's been hiding--or if he even wants to.
The Sea of Tranquility is a rich, intense, and brilliantly imagined story about a lonely boy, an emotionally fragile girl, and the miracle of second chances.
For fans of Perks of Being a Wallflower.
Information
Format: Paperback
Pages: 448 pages
Publisher: Atria Books
Publication Date: 01/06/2013
ISBN: 9781476730943
Other Formats
EPUB from £5.99
eAudiobook MP3 from £20.12
Free Home Delivery
on all orders
Pick up orders
from local bookshops
Reviews
Showing 1 - 5 of 17 reviews.
Previous | Next
Review by BornBookish
16/06/2015
While this story was very unique, mysterious, and occasionally sweet, the bad outweighed the good for me.The story is told from alternating points of view; Nastya and Josh. Nastya survived a traumatic experience when she was fifteen that took away the one thing she loved most in life, her ability to play piano. Now, three years later she is still consumed by fear, anger, and hatred for what happened to her. It takes awhile for us to figure out what happened in Nastya's past. We get small snippets here and there until the full story comes out at the end. I really couldn't understand Nastya's mindset most of the time. She didn't respect herself at all and was so self-destructive it was painful to watch.Then we have Josh, another person who's past is full of pain and loss. New to school, Nastya tries her hardest to push everyone away, but there is something about Josh that draws her in. The two start to form this odd relationship that goes from hate, dislike, like, to love. I didn't really love Josh either. I liked him most of the time but then he would do something stupid and really bug me. He was also pretty self-destructive, not letting anyone into his life who he could later lose, because inevitably that's what always happened.My main issue with this book was the swearing and sexual comments every two seconds. There were more F-words in this book than I've probably heard in my entire life, and the disgusting sexual "jokes" they were constantly making were not funny. Had these two aspects not been so prevalent, I would have enjoyed this story a lot more!Overall, this just wasn't the right book for me.
Review by BookDivasReads
16/06/2015
Nastya Kashnikov is seventeen years old and has recently relocated from her hometown to a town two hours away to live with her aunt. Her goal is to complete her senior year of high school in relative anonymity. All we initially learn about Nastya is the she is mute and has an extremely daring style of dress, described as Goth meets Frederick of Hollywood. Her goal is not to make friends but to be left in relative anonymity (difficult with her in-your-face style of dress). We learn that Nastya is compelled to run until she's exhausted and bakes complicated desserts from scratch. We also learn that Nastya has an affinity for names, collecting them and discovering their meaning. As the new and somewhat strange girl at school she quickly garners the attention of the big-man-on-campus, Drew Leighton. Drew is a huge flirt and initially his only goal is to try and "score," but he quickly comes to like what little he knows about Nastya and uses her as a shield of sorts. Drew's best friend, Josh Bennett has suffered from a number of tragedies during his short life. His mother and sister were killed in a car accident when he was eight years old. He quickly learned that he could literally get away with anything including beating other kids up. The other kids quickly learned to give him a space and to leave him alone, everyone except Drew. Josh's father dies just a few years after his mother and sister's deaths, followed by his grandmother and now his grandfather. At seventeen Josh is an emancipated minor and a gifted woodworker-carpenter.Josh and Nastya become friends as a result of a wood shop class. This friendship evolves into more and eventually Nastya's elective mutism ends with her speaking first to Josh and then to Drew. Even though she is willing to speak to them, she never reveals the trauma she's suffered or why she's separated from her family. Both Josh and Nastya have had tragic lives. Josh slowly reveals his tragedies to Nastya, but she's never quite willing to reveal hers. Is it possible for two young people to save themselves while being there for one another?The Sea of Tranquility is a hauntingly beautiful and dramatic story about life, families, love, hope and second chances. Ms. Millay has crafted an amazing story that deals with emotional and physical trauma. The characters are flawed and portrayed in a candid and realistic manner. I found The Sea of Tranquility to be a rather fast-paced read and one that pulled me in emotionally from the beginning to the end. I felt the despair and hope along with the characters as Nastya's past is slowly revealed. The build-up to the ending left me feeling slightly unsettled but I realized it probably couldn't have ended any other way. The Sea of Tranquility has been classified as Young Adult, New Adult, Contemporary Fiction, Realistic Fiction and even Romance. It doesn't really matter what it is classified as, it is quite simply a compelling read. If you enjoy contemporary fiction filled with family drama, self-discovery, and romance, then this is one book you don't want to miss reading.
Review by MVTheBookBabe
16/06/2015
Due to copy and paste, formatting has been lost.*ACTUALLY 4.5 STARS*I can't think of words to describe how I feel about The Sea of Tranquility. It's terrible and beautiful and heart-breaking. I can't think of any other way to say it, especially since I accidentally deleted my kindle notes...again.I had so much that I wanted to say, and now I'm just regulated to telling you exactly what can be said right off the bat.The writing was truly amazing. It may have been a super long (and at times slow) book, but it really got under my skin and made me think and feel for all of the characters. They're all totally messed up and flawed, but they're truly perfect in every way. I loved every little flaw in each of them. I loved their pain. (Well, I didn't love their pain but you get what I mean.) I loved that they all healed each other in a way.Nastya (I cringe everytime I see that name) really was a broken person. Something very, very bad happened to her, and I spent the first half of the book wondering what it was; then the second half being upset about it. No one should ever go through that. In spite everything she's been through, I respect Nastya. I respect that she wanted people to stare on her terms, and not to feel sorry for her. I respect what she wanted.On another note, I never expected the guy who did it to be so trite. It was crazy, and I actually found myself feeling sorry for him. I can't forgive him, but I'm so sorry for him. That never should have happened. It's his fault, make no mistake, but I feel terrible about it.No one should ever go through what Josh, or Drew, or even Clay is experiencing either. Life isn't easy, but this tiny group of people seem to have it the worst. I wish that I could just wrap them all up in a hug and not let go. They broke my heart so much that I cried multiple times. Not like, flat out bawling on the floor, but a good, this-is-a-fantastic-book cry.All in all, I definitely recommend The Sea of Tranquility. It's a heart-breaking read that just needs to be read.
Review by JanaRose1
16/06/2015
Nastya wants to start over. She doesn't want to be known as the Brighton Piano girl, the girl who was brutally attacked and is now unable to play music. Starting over at a new school, Nastya completely reinvents herself. She dresses like a hooch and draws all of the wrong kind of attention. And then she meets Josh Bennett, a boy almost as damaged as she is.I found this book fascinating. I couldn't put it down. The characters were engaging and interesting. From a psychological standpoint it was riveting. I think the author disclosed information at exactly the right pace. I would love to read more from the author and look forward to her next book.
Review by SusanMcDonough
16/06/2015
I really enjoyed this insight into the tribulations of two traumatized teenagers (sorry, didn't intend the alliteration there). I did find the girl's particular trauma hard to believe, but other than that, I found the development of their relationship captivating and true. I found it hard to put my Nook down after I got used to the narrator-switch. At first I found bouncing from boy to girl a bit hard to keep up with, but I got used to it and by the end, I loved the double viewpoint. A wonderful story.
Also by KATJA MILLAY