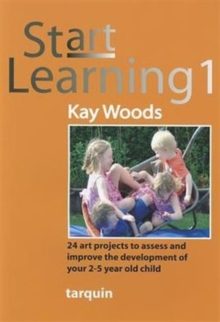 Start Learning 1 : 24 Art Projects to Assess and Improve Your 2-5 Year Old's Development
Book
Description
These books contain a collection of fun and easy-to-do art projects, each designed to allow parents to follow, assess and stimulate their child's development in a key learning area.
An art project is chosen and the background information read, so that you can see what is expected of your child at his/her age.
As the art project is completed together and the child practices his/her skills, you will gain an insight into the child's learning progress.
It can be a struggle for parents to find out what is actually meant by normal development.
Comparing your child against his or her peers can be misleading, while the opinions of friends and carers can appear contradictory and vague.
This guide is for parents to answer questions with facts.
You will learn what to expect and when from your two to five year old, help you to understand the learning process, and be provided with a straightforward method to assess that development yourself.
This unique approach makes it possible to see for yourself if she is achieving at a level that is 'normal' for her age - based on the Early Years Foundation Stage that professionals use for the same purpose.
The activities in these books are widely used by professionals.
Start Learning 1 covers - Personal and Social Development- Physical Development- Mathematics Start Learning 2 covers Language and Literacy, Creative Development and Science.
The most likely result of reading these books and working through the art projects is that the information will reassure parents that their child is developing exactly as he/she should be.
But if he/she really is falling behind in certain areas, then as a parent it is good to be aware.
Having the facts gives the parent the power to decide what, if anything, they might want to do about it.
Reader Review from a Professional Childminder: "I just wanted to thank you.
I had my inspection and got outstanding...my inspector loved the arts projects and how your books informed my parents of the eyfs.
So thank you as your knowledge and well presented easy work really helped me..."
Free Home Delivery
on all orders
Pick up orders
from local bookshops