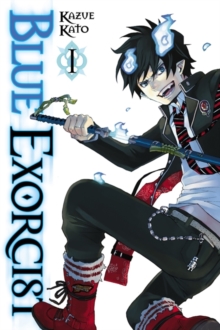 Blue Exorcist, Vol. 1
Paperback
Description
Raised by Father Fujimoto, a famous exorcist, Rin Okumura never knew his real father.
One day a fateful argument with Father Fujimoto forces Rin to face a terrible truth - the blood of the demon lord Satan runs in Rin's veins!
Rin swears to defeat Satan, but doing that means entering the mysterious True Cross Academy and becoming an exorcist himself.
Can Rin fight demons and keep his infernal bloodline a secret?
It won't be easy, especially when drawing his father's sword releases the demonic power within him!
Information
Format: Paperback
Pages: 202 pages
Publisher: Viz Media, Subs. of Shogakukan Inc
Publication Date: 05/04/2011
Category: Manga
ISBN: 9781421540320
Free Home Delivery
on all orders
Pick up orders
from local bookshops
Reviews
Showing 1 - 5 of 8 reviews.
Previous | Next
Review by usagijihen
16/06/2015
I've been a big fan of this series since its initial serialization in Jump Square magazine a few years back, so you can imagine my excitement when I found out that it was being released here – and that Viz was translating it. So I dug in happily, and was quite pleased to find that Viz got it right, and it isn't even apart of their SigIkki line, so no special effort was needed. The English adaptation was more or less seamless – which was to be expected as this series doesn't really have many cultural notes to explain (it's based more on Western religion/mythology than Eastern religion/mythology), so that probably took a lot of weight from the translators' shoulders. If you're looking for a new series to jump into (no pun intended), and you like stories about demons, this one is most definitely for you. Good job, Viz! Keep it up. And don't let me down!(crossposted to goodreads, shelfari, witchoftheatregoing.wordpress.com)
Review by BrynDahlquis
16/06/2015
Not only does it have a very interesting plot, but it ALSO has great art! I love both Rin and Yukio (which is rather impressive), and I'm looking forward to more volumes.Art is always what really decides my opinion on a manga. Plot and characters is important too, of course, but if the art is muddled and confusing, I won't enjoy it. Blue Exorcist's is exciting but not so exciting that you have no idea what's going on. I love it.
Review by catya77
16/06/2015
Rin and his fraternal twin, Yukio, are being raised by Father Fujimoto. Rin gets in fights. Yukio has plans to be a doctor. Suddenly it is revealed Father Fujimoto is an exorcist, and he is killed saving Rin, who is part demon and the son of Satan. Yukio is not part demon due to being under-weight and sickly at birth. Follow their adventures as Rin and Yukio learn to deal with each other in their new capacities, Yukio has secrets too.The graphics are concise and crisply drawn. There is also an occasional anime flair to some cells.Dialogue and action assist with character and narrative development.Overall, an interesting read.
Review by jljaina
16/06/2015
How have I overlooked this series for so long? Shame on me for not reading this sooner. I have known of the series but it has always been on the back-burner for me and not a priority. Guess what series is now on my to-buy more of list? Yep! This one.<br/><br/>This series starts off with young, adolescent Rin who seems to be struggling to find his place in life. No real objectives regarding school or life, he has just skated by. His younger brother Yukio is someone is is proud of and has recently been accepted to a prestigious school but Rin's future seems to be a mystery. One day he can suddenly see demons! His adoptive father, Father Shiro Fujimoto, explains that he is the son of Satan himself. <br/><br/>When Satan comes to collect his son his father dies protecting him and Rin vows to become an exorcist and to defeat Satan himself. However in doing so, he unleashed his own demon side. Which include a few physical altercations. He is sent to a special school which just happens to be the same school where his brother is at. And Yukio has a few surprises of his own!<br/><br/>I really enjoyed this intro volume. I can't help but love Rin. He can be perceived as a total slacker (and sometimes is) but his heart is in the right place. And now he has a huge chip on his shoulders! I can't help but empathize with him now! It is a good blend of paranormal, mystery, action and comedy.<br/><br/>The demons so far are almost amusing. Especially how many of them look! but I am sure I will get to see the scarier demons as we continue through the series. After all, this is the beginning and Rin is just a rookie in training. There is a bit of confusion with the timelines of when Yukio started school, to the death of Father Fujimoto to Rin attending the school. Otherwise I am quite impressed with this.<br/><br/>In addition to enjoying this manga, I now have the anime as one to see soon. I can't wait to see how they compare! I will definitely be continuing this series! <br/><br/>*I received this from Viz Media via Edelweiss for review. All opinions and thoughts expressed are strictly my own.*
Review by Rosa.Mill
27/01/2016
Rin gets into a fight that finally exposes his demon nature. He decides that he wants to become an exorcist, like his twin brother when their surrogate father is killed by Satan, Rin's father. Rin and Yukio help Shiemi overcome a demon that is hurting her and she too joins the school.<br/><br/>I really like the story and I especially like Rin. There are a lot of other interesting characters popping up too. I did find some of the action panels confusing, but other then that I do like the art style.
Also in the Blue Exorcist series | View all