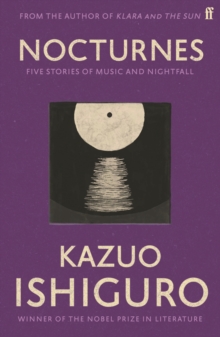 Nocturnes : Five Stories of Music and Nightfall
Paperback
Description
From the Nobel Prize-winning author of The Remains of the Day and Never Let Me GoIn Nocturnes, Kazuo Ishiguro explores the ideas of love, music and the passing of time.
From the piazzas of Italy to the 'hush-hush floor' of an exclusive Hollywood hotel, the characters we encounter range from young dreamers to cafe musicians to faded stars, all of them at some moment of reckoning.
Gentle, intimate and witty, this quintet is marked by a haunting theme: the struggle to keep alive a sense of life's romance, even as one gets older, relationships founder and youthful hope recedes.
Information
Format: Paperback
Pages: 240 pages
Publisher: Faber & Faber
Publication Date: 01/03/2010
ISBN: 9780571245000
Free Home Delivery
on all orders
Pick up orders
from local bookshops
Reviews
Showing 1 - 1 of 1 reviews.
Review by elliepotten
16/06/2015
This was my first Ishiguro, and although I'm not usually a fan of short stories this book really impressed me. The title pretty much sums it up: <i>Nocturnes</i> is a collection of five stories, each weaving a tale of music and romantic heartache. <i>Crooner</i> is set in Venice, where a guitarist in a café band meets his mother's favourite crooner and helps him woo his wife one last time before they separate. <i>Come Rain or Come Shine</i> is a farcical story about a man coming home from a life roaming abroad, only to find his friends' marriage in trouble and himself involved in a plot to bring them back together. <i>Malvern Hills</i> was the only one set in Britain, in which a young aspiring songwriter comes up against various tourists and locals in his sister's café. <i>Nocturne</i>, the longest of the stories, brings together a celebrity wife and a brilliant saxophonist on a secret floor of a Hollywood hotel after they've both had plastic surgery. And finally, <i>Cellists</i>, possibly my favourite of the five, is about a young man, eager to become a master of his music, who manages to attract a mentor in an Italian piazza who may not be all that she seems.It's always hard to review a book of short stories because they're all so different. What struck me the most about the book as a whole was definitely the writing itself. It was just delicious to read, lyrical and exquisitely composed. Each story was subtle and quite gentle in both message and plot, entwining love and heartbreak with the strumming of the guitar or the deep notes of the cello; music and romance brought together in the fresh breeze of the Malvern countryside or the bustling atmosphere of an Italian piazza. And that was what really made the book for me – the atmosphere. The stories weren't the most memorable, nor was the book as a whole something I'd read again or remember forever, but the atmosphere was so beautifully wrought that it reached under my skin, and made me feel like I was sitting right there in that English café or sipping cappuccino as a warm Mediterranean night drew in. I have several other Ishiguros already on my shelf, and if all of his books are this much of a delight, I should be in for a treat!