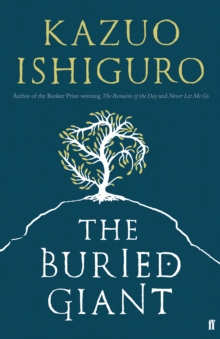 The Buried Giant
Hardback
Description
'There's a journey we must go on, and no more delay...' This is the extraordinary new novel from the author of Never Let Me Go and the Booker Prize winning The Remains of the Day.
The Romans have long since departed, and Britain is steadily declining into ruin.
But at least the wars that once ravaged the country have ceased.
The Buried Giant begins as a couple, Axl and Beatrice, set off across a troubled land of mist and rain in the hope of finding a son they have not seen for years. They expect to face many hazards - some strange and other - worldly - but they cannot yet foresee how their journey will reveal to them dark and forgotten corners of their love for one another.
Sometimes savage, often intensely moving, Kazuo Ishiguro's first novel in a decade is about lost memories, love, revenge and war. "Kazuo Ishiguro is an original and remarkable genius." (The New York Times). "A master craftsman." (Margaret Atwood, Slate). "The best and most original writer of his generation." (Susan Hill, Mail on Sunday).
Information
Format: Hardback
Pages: 352 pages
Publisher: Faber & Faber
Publication Date: 03/03/2015
ISBN: 9780571315031
Other Formats
Paperback from £7.69
EPUB from £6.39
CD-Audio from £17.95
Free Home Delivery
on all orders
Pick up orders
from local bookshops
Reviews
Showing 1 - 4 of 4 reviews.
Review by Eyejaybee
16/06/2015
I was very disappointed by this book. I had eagerly awaited its publication and then deliberately deferred reading it until a spell of leave from work so that I could devote sufficient time to it, hopefully luxuriating in it. That never happened. I found it utterly impenetrableThe story is set in an early medieval period in England. The Romans are long gone and there are already Saxon settlements scattered around, though the principal characters (Axl and Beatrice) are Britons, living in a labyrinthine warren of caves. Axl and Beatrice are the oldest members of their community and there are frequent early references to the teasing they suffer from the children in their settlement. They also seem to have only intermittent memory. They both have a dim recollection that their son has left their community and set up home elsewhere (they are not sure where). Indeed, the whole of their community seems to have a shared amnesia. Axl can recall a red-haired woman who went among them all a few weeks earlier, offering gnomic advice to all and sundry. His neighbours, however, have no recollection of her at all.The story recounts Axl's and Beatrice's journey to find their son. I found it very irritating - more than anything else, it seemed to me like a tortuous version of Jack and the Beanstalk, with the two of them trekking though vaguely-described countryside while maintaining a rather demented dialogue. I might leave it a while and try to read this again … on the other hand, I might not!
Review by lee-mervin
16/06/2015
I love this book - mysterious, poetic, sad and thought provoking,
Review by Bridgey
10/11/2015
The Buried Giant - Kazuo Ishiguro ***I have previously read two Ishiguro books, The Remains of the Day (which I loved) & A Pale View of the Hills (which I hated) so when I saw that he had released a new book that was quite far away from his usual genre I decided to pick it up and finally decide if he was an author I wanted to invest any more time in or just pass by.What is it about?The story is set in a fictional time, but it seems to be around the early middle ages, but a time that is equally mixed with fantasy as fact. British heritage and Arthurian myths are weaved together with the story of Axl & Beatrice, an aging couple that reside in a typical village of the time. Something is wrong though, and most people have trouble remembering things from the past with only snippets surfacing now and again. Despite this they both feel an overwhelming urge to visit their son in another village and with only instinct for guidance they set off. Along the way they meet a number of weird characters that either help or hinder their quest. The buried giant in question is that of memory, and are we always better off in knowing the past, or are some things better left covered upWhat did I like?I suppose that if I had to pick something it would be the way Ishiguro uses certain metaphors throughout the novel. The Buried Giant is obviously that of the memory loss, and the main theme of the book is whether or not some things are better left undiscovered. The first 20 pages or so started quite promising for me but I soon struggled with the repetition.What didn't I like?Most of it. Firstly the annoying way that the characters names are repeated over and over and over again, also the affectionate term Princess (Axl's term of endearment for his wife) was printed so much I felt like throwing the book across the room. The characters are totally one dimensional and speak in such an unbelievable way that every time I had to read their speech I could feel it grating on my nerves. At times I had to check I wasn't reading a children's novel as the story got more and more ridiculous, with events repeated on a 30ish page cycle… walk a bit, talk a bit (in a very unlikely manner) and then walk a bit more.Would I recommend? Not really. I know there are numerous subliminal messages littered throughout the text, but the story and writing itself just wasn't enough for me to be bothered to dig down deep enough to find them. Personally I found the book a 1 * read, but I am not arrogant enough to believe that this lies entirely with the novel, and I must shoulder some of the blame. I know Ishiguro can write brilliantly, he can portray the human character as well as any other author, he just didn't involve me enough here. Many people who have left negative reviews seem to have been shot down with "you didn't understand it", I think I understood most of it, but didn't enjoy hardly any of it really. I find it very unlikely I will pick up another of his books again, unless it is a reread of The Remains of the Day.
Review by saroz
27/01/2016
Let's get this out of the way early: yes, there's a dragon in this book, and no, this isn't a fantasy novel. At very least, I think <i>reading</i> it as a fantasy novel would be a terrible mistake, because the formulas or routines one expects from "fantasy" simply aren't to be found here. And as Ishiguro himself says, in a recent interview with Neil Gaiman, that's intentional. He didn't set out to follow the form of a fantasy novel, so he didn't - and although there is, nominally, a quest, a dragon, an aged Knight of the Round Table, and various events that seem at least vaguely supernatural, none of them function in the ways one would expect. Things are not what they initially seem.Strike that. It's better to say that <i>things are not what you remember them to be.</i> Even without previous exposure to the characters and setting of <i>The Buried Giant</I>, it's impossible not to come in with preconceptions: of what historical Britain of 1500 years ago was like, of how those people lived, of what a dragon does to terrorize a village, of what these sort of stories should <i>do</i>. But the entire point of Ishiguro's novel is that we prescribe meanings and iconographies on to the past (which is, really, the ultimate story) that are not necessarily representative of the truth. We choose what we want to remember, and while that can be comforting, it's ultimately restrictive, too. <i>The Buried Giant</i> is catching a lot of flak from reviewers because of what it is not (again, what they expected it to be), and I think anyone who is going to appreciate the novel has to accept, right away, that Ishiguro is not dealing in literalism. There's a dragon, yes, but the only literal "buried giant" is mentioned early in the narrative and quickly forgotten. The "buried giant" of the title is, in fact, totally symbolic; you might think of it as "the stuff we sweep under the carpet and try to forget." Again and again, the characters in the novel battle not so much with each other - although there certainly are instances of sudden and brutal violence - but with the idea that they have forgotten important things, perhaps intentionally, perhaps not. It has all been obscured by a mist that has descended over the land and seems to sap at people's memories, but the crucial question is whether or not that forgetfulness has actually left them better off. The central couple of Axl and Beatrice, married for so long they no longer remember meeting each other, are forever locked in that debate. Beatrice worries that if they escape the mist, they might remember times of discontent and find their idyllic relationship changed. She begs Axl not to forget how happy they were even without their long-distant memories. Axl agrees, again and again - but it's clear that even in choosing to seek the source of their amnesia, Axl has already changed, and he can't really look back. Every character in the book deals with an internal conflict along these lines, and while the eventual quest that forms provides a goal for most of them, it doesn't necessarily provide solutions. The other "problem" aspect of the novel, at least for some, is going to be that relatively little actually happens in the sense of events. (And here we're back to the idea of what we expect out of a fantasy narrative.) This is an extremely contemplative book, and most of it revolves not around what people do but about their questions of what to do next. Everyone ends up locked in a sort of verbal pageantry with each other, assuaging each other's fear, respecting their positions, providing them with honor and generally side-stepping the fact that no one is <i>really</i> certain of much of anything. To some readers, I'm sure that feels both repetitive and circular, but to me it felt like a kind of elegy: pretty much everyone in this novel is concerned with letting everyone else down gently. Everyone wants to give everyone else the sense that they don't go alone into the dark. There are some comparisons being made between <i>The Buried Giant</i> and <i>The Lord of the Rings</i>, and while I see where they're coming from, I think they're wrong-footed. Tolkien is lamenting the loss of an idyllic past and the knowledge that "you can never go back home again." It's obvious that he wants to turn his back on the modern world even as he knows that's not possible. Ishiguro's entire point is that home isn't what you believed it to be in the first place, and the only thing to do, really, is move on with as much grace as you can. Tolkien's perspective supports the concept of the individual, although he basically says that the individual can only do so much; Ishiguro appears to take the long view that all man-made concepts - individualism, civilization, the stories we tell - are illusions and, rightly or wrongly, hold us back. Time keeps on going and the world keeps on turning. Old ways die and new ways rise. That's just how it is.Do I think this an uplifting read? Well, no, not particularly. However, I found it very engaging and beautifully written. It's also extremely moving at a classically romantic level; it is, essentially, a "goodbye" to romantic pretensions. It's also the kind of novel you can really only get from an experienced and established author. <i>The Buried Giant</i> will leave you solemn, wistful, and maybe even a little unsatisfied - and that's life. If you can give yourself over to Ishiguro, his new novel is a mature and richly rewarding experience.