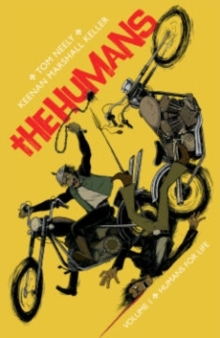 The Humans Volume 1
Paperback / softback
Description
Meet The Humans as they mourn the loss of a fallen brother only to haveJohnny, a long-thought-dead member, return to the fold!
Johnny struggles to findhimself now that he is back home as he fights the flashbacks from the jungles ofVietnam.
Meanwhile, the gang is cooking up a new drug called SPAZM and a schemeto drop on the market.
It all culminates at Abe's compound with a Skin-fight(like cock-fighting but with Homo Sapiens slaves), and the Humans team up withThe Mad F*****s to organize a massive drug-run to Los Angeles.
Ride with us fora far-out trip full of gang rumbles, skin-fights, loads of psychedelic drugs,bad-ass biker apes, hot biker mamas, and awesome choppers in the endless partythat is the life of The Humans as they fight, f**k, and fly down the road tooblivion!
Join our crew! Ride with The Humans today!Collects The Humans #1-4, and issue #0.
Information
Format: Paperback / softback
Pages: 144 pages
Publisher: Image Comics
Publication Date: 24/03/2015
Category: Science fiction
ISBN: 9781632152596
Free Home Delivery
on all orders
Pick up orders
from local bookshops
Also by Keenan Marshall Keller