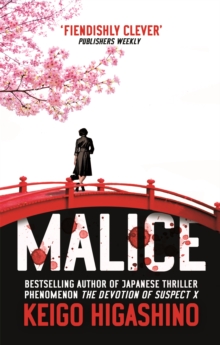 Description
Acclaimed bestselling novelist Kunihiko Hidaka is found brutally murdered in his home on the night before he's planning to leave Japan and relocate to Vancouver.
His body is found in his office, in a locked room, within his locked house, by his wife and his best friend, both of whom have rock solid alibis. Or so it seems. Police Detective Kyochiro Kaga recognizes Hidaka's best friend.
Years ago when they were both teachers, they were colleagues at the same high school.
Kaga went on to join the police force while Osamu Nonoguchi left to become a full-time writer, though with not nearly the success of his friend Hidaka.
But Kaga thinks something is a little bit off with Nonoguchi's statement and investigates further, ultimately executing a search warrant on Nonoguchi's apartment.
There he finds evidence that shows that the two writers' relationship was very different than the two claimed.
Nonoguchi confesses to the murder, but that's only the beginning of the story.
In a brilliantly realized tale of cat and mouse, the detective and the writer battle over the truth of the past and how events that led to the murder really unfolded.
Which one of the two writers was ultimately guilty of malice?
Information
Format: Paperback
Pages: 320 pages
Publisher: Little, Brown Book Group
Publication Date: 05/02/2015
Category: Crime & mystery
ISBN: 9780349140520
Free Home Delivery
on all orders
Pick up orders
from local bookshops
Reviews
Showing 1 - 1 of 1 reviews.
Review by Amberlouichu
23/09/2015
I feel so lucky that I won this book through Goodreads First Reads!!I just... what just happened?!I'm still in a state of shock and my mind is all over the walls and ceiling because of the ultimate mind-blowingness that resulted in reading this book!Extremely clever and thoroughly planned out to keep you guessing, and double-guessing, triple-guessing and so on. Really gripping read that I really enjoyed. Was a change of scene for me but so glad I chose to take the leap!Malice is a murder mystery novel but nothing like you would be expecting to step into. Instead of the usual who-dunnit, it's an extremely creative maze of twists and turns to find out the motive behind the murder. It has you going back to read pages because you must have missed a huge giveaway before that's how intelligent this book is.It's a fairly simplistic writing style having been translated from Japanese but I believe that if it was any more complicated, the book would have been unbearably overwhelming. It has the perfect balance.People have said to battle through the middle but I didn't really understand what there was to battle through because there was still so many unanswered questions that I just had to keep reading.Seriously amazing and soul sucking book that is indeed dripping with malice.Probably more of a 4.5 but because of the state of shock I'm in after just finishing it, I'm giving it a 5 star. Brilliant, genius and obsessive.