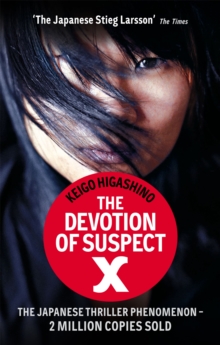 The Devotion Of Suspect X
Paperback
Description
Yasuko lives a quiet life, working in a Tokyo bento shop, a good mother to her only child.
But when her ex-husband appears at her door without warning one day, her comfortable world is shattered.When Detective Kusanagi of the Tokyo Police tries to piece together the events of that day, he finds himself confronted by the most puzzling, mysterious circumstances he has ever investigated.
Nothing quite makes sense, and it will take a genius to understand the genius behind this particular crime...One of the biggest-selling Japanese thrillers ever, and the inspiration for a cult film, The Devotion of Suspect X is now being discovered across the world.
Its blend of a page-turning story, evocative Tokyo setting and utterly surprising ending make it a must-read for anyone interested in international fiction.
Information
Format: Paperback
Pages: 448 pages
Publisher: Little, Brown Book Group
Publication Date: 01/01/2012
Category: Crime & mystery
ISBN: 9780349123745
Free Home Delivery
on all orders
Pick up orders
from local bookshops
Reviews
Showing 1 - 1 of 1 reviews.
Review by Eyejaybee
16/06/2015
I had never heard of this book when I came across it in Waterstone's and, feeling unwarrantedly flush I decided to take a punt on it, swayed by the publisher's blurb. For once (as I have rather poor form in this field) I think I chose wisely. Please note that my review does contain some minor spoilers (though certainly not the ultimate denouement.).Yasuko Hanoaka is a divorced mother who now works in an upmarket sandwich bar, though earlier she had been a hostess in a couple of lively nightclubs. As the novel opens, her neighbour, Tetsuyi Ishigami, is walking to his work as a maths tutor at a cramming college for academically challenged pupils, and, as he always does, takes a detour to visit Yasuko's shop, principally for the chance to gaze at her. She is aware of him but does not pay him any attention.However, this day will prove to be different because later on another customer whom she recognises call in to the shop. This visitor is less welcome as it turns out to be Yasuko's estranged former husband, Shinji Togashi, whom she had divorced because of his drunken violence. They had not met for some years, and Yasuko soon recognises that Togashi has not changed and that he is likely to be there to scrounge for money. She manages to persuade him to leave the store, but he turns up later at the flat she now shares with her young daughter. Trouble ensues, and escalates, culminating in the sudden death of Togashi. Ishigami, who lives next door, hears the struggle and comes round to investigate, finding Yasuko and her daughter in shock, stunned by what has happened and perplexed as to how to react. Ishigami takes charge and arranges for the disposal of the body.We then move on a couple of weeks by which time the police have found an unidentified corpse and set about trying to unravel the mystery of who the dead man was, and how he came to be there. The investigation is led by Kusanagi, an inspector of the local police, with help from his intelligent civilian friend Yukawa who, as it happens, had been at university with Ishigami. Yukawa, an associate professor of physics at the Imperial University, starts his own investigation which runs in parallel with that pursued by the police, and their paths continually cross.The plot is never less than utterly plausible, and the characterisation is clever, with Yukawa cast almost as a Japanese version of Mycroft Holmes, seldom straying from his comfortable base while managing to unravel the trail of clues that he identifies to the bemusement of the police.All in all, very enjoyable.