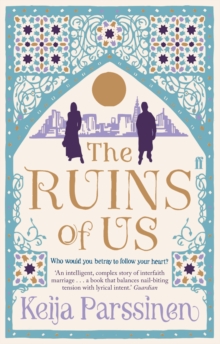 The Ruins of Us
Paperback
Description
"An intelligent, complex story of interfaith marriage...That balances nail-biting tension with lyrical intent". (Guardian). More than two decades after moving to Saudi Arabia from America and marrying Abdullah Baylani, Rosalie learns that her husband has married a second wife.
The discovery plunges the powerful family into chaos as Rosalie grapples with leaving Saudi Arabia, her life and her family behind.
Abdullah and Rosalie's consuming personal entanglements also blind them to the crisis approaching their sixteen-year-old son Faisal, whose deepening resentment towards their lifestyle has led to his involvement with a controversial sheikh.
When Faisal makes a choice that could destroy everything his family holds dear, all must confront difficult truths as they fight to preserve what remains of their love.
Information
Format: Paperback
Pages: 336 pages
Publisher: Faber & Faber
Publication Date: 01/06/2012
ISBN: 9780571282180
Free Home Delivery
on all orders
Pick up orders
from local bookshops
Reviews
Showing 1 - 2 of 2 reviews.
Review by thewanderingjew
16/06/2015
This is a magnetic narrative which is wrapped around the love of an expat, Rosalie, and her Saudi husband, Abdullah. They meet as students, at a Texas University, and after they marry, Abdullah convinces Rosalie to return to his native country. She had been raised there, because her father had worked for an oil company, and needs little persuasion. The pull of the country was drawing her back and she was eager to go. Forgetting her hippy past and disregarding the lack of freedom for women, she reentered the Kingdom, making a valiant effort to live there and raise her family. The author was also raised in Saudi Arabia, for the first 12 years of life, and she deftly shines a light on the culture, the beauty, the excesses of the royals, the oppression and the fanaticism of a government ruled dually by religion and the oil fields. It illumines the hatred for the infidels, fueled by not only the religion, but also by the extreme poverty and arrogance of the Americans, who treat them like second class citizens in their own country. The royals and those associated with the government are privileged while everyone else is in an underclass. The story shows how the ways of the old world mesh with the new, sometimes not very smoothly, sometimes causing irreparable tears in the fabric of relationships.She exposes the threads of discontent in the poor and even the rich, the insecurities that live within the young boys that can turn them into terrorists, not even realizing the consequences of their reckless behavior. Lost and confused, they turn to the radical approach to Islam, worship their Imams and are too immature to realize the frightening implications of their behavior or the devastating consequences. They think no further than the moment and are simply not able to make rational decisions. These young rebels often observe the behavior of others, interpreting with the eye of the religious zealot, creating explanations that are misleading and overblown, which then leads them to radical retributive behavior that is not grounded in reality. Their solutions are often barbaric.The book illustrates how the culture might encourage a misunderstood young man to commit heinous acts, in the name of his religion. It shines a light on both the privileged and underprivileged, offering explanations for how both are led down the path of radicalism by home life, greed, the political environment, deprivation, emotional neediness, and a need for structure and direction. There were moments when the story seemed a trifle contrived and the events serendipitous, but despite this, the story is very engaging. About two thirds of the way through the book, the tension builds to a crescendo and the reader will feel real fear because the scene depicted is too close to the reality of today. We are all only too aware of the cruelty of which extremists are capable. She demonstrates how Bin Ladens might be born out of innocence and immaturity, encouraged by radical Imams who prey upon unsuspecting victims, unaware of the cost of what they might be called upon to do. The characters are clearly defined and the author's style is inviting. You know immediately that you will enjoy the book. Parssinen wisely uses her words to demonstrate the workings of the two worlds, the Saudi and the American, as they come into conflict with each other.It is a wonderful book for a book club. The discussions on marriage, fidelity, women's rights, counter cultures, religious freedom, democracy, family life, monogamy and freedom, to name a few, should be very entertaining and enlightening.
Review by kiwifortyniner
16/06/2015
This was a book I found to be well written and engrossing and one that I was not able to put down. I enjoy reading books that take me to another part of the world that I will never experience and the author made it so real to me.Rosalie meets wealthy Abdullah Baylani while at college in America. He is from Saudi Arabia and she while American grew up in Saudi Arabia as her father worked in the oil industry. She had always had a hankering to go back so when they married, much to the disapproval of his family, they returned and as the book opens they have been married for twenty years and have two children a boy and a girl. It is at this point that Rosalie is devastated to find out that Abdullah has a second wife, who is much younger and that they have been married for two years. This is something she never thought her 'modern' husband would do. Rosalie had worked at becoming the typical Saudi wife and it is this fact that Abdullah bemoans. He has lost the spirited American wife that he fell in love with, Their son Faisal on the other hand is caught between two cultures and feels accepted in neither. He through a friend comes under the influence of radical extremists, and with this friend takes a decision without really thinking it through and realising what the consequences could be. As a result the book builds to a gripping climax and both Rosalie and Abdullah have to rethink what is important to them.From reading this book it becomes easier to understand how lost and confused teenagers living in such a world today can lose their way, as Faisal did, become part of terrorist organisations, and commit terrorist acts especially if they are from poor families with few prospects for the future.This is a book that is definately worth reading. The author, like the character Rosalie, was born and spent many years living in Saudi Arabia but now lives in America.