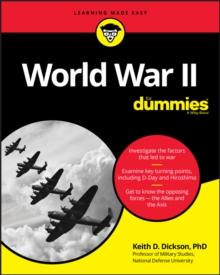 World War II For Dummies
Paperback / softback
Description
Investigate the factors that led to warExamine key turning points, including D-Day and HiroshimaGet to know the opposing forces -- the Allies and the Axis Explore the greatest war in history World War II was the most destructive conflict of the 20th century.
How did it happen -- and why? Packed with fascinating anecdotes, interesting sidebars, and top ten lists, this friendly reference contains everything you need to know about World War II, from the issues that caused the war to its most crucial confrontations and what happened in the aftermath.
Read about important figures on both sides, study Hitler's war against the Jews, and find out how the Allies finally achieved victory.
Whatever your interest, World War II For Dummies is your go-to guide. Inside ... The significance of World War IIHitler's rise to powerThe invasion of Eastern EuropePearl Harbor and U.S. neutralityLife and labor on the home frontThe HolocaustLiberation and what came next World War II For Dummies (9781119675532) was previously published as World War II For Dummies (9780764553523).
While this version features a new Dummies cover and design, the content is the same as the prior release and should not be considered a new or updated product.
Information
Format: Paperback / softback
Pages: 432 pages
Publisher: John Wiley & Sons Inc
Publication Date: 10/01/2020
Category: Humamities
ISBN: 9781119675532