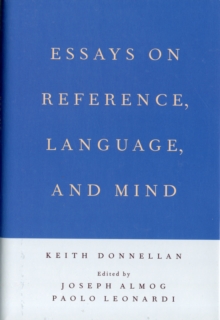 Essays on Reference, Language, and Mind
Hardback
Description
Keith Donnellan, Emeritus of UCLA, is one of the major figures in 20th century philosophy of language, a key part of the highly influential generation of scholars that included Hilary Putnam, Saul Kripke, and David Kaplan. Like many of these philosophers, his primary contributions were published in article form rather than books. This volume presents a highly focussed collection of articles by Donnellan.
In the late sixties and early seventies, the philosophy of language and mind went through a paradigm shift, with the then-dominant Fregean theory losing ground to the "direct reference" theory sometimes referred to as the direct reference revolution. Donnellan played a key role in this shift, focusing on the relation of semantic reference, a touchstone in the philosophy of language and the relation of "thinking about" - a touchstone in the philosophy of mind.
The debates around the direct reference theory ended up forming the agenda of the philosophy of language and related fields for decades to come, and Donnellan's contributions were always considered essential. His ideas spawned a scholarly debate that continues to the present day. This volume collects his key contributions datng from the late 1960's through the early 1980's, along with a substantive introduction by the editor Joseph Almog, which disseminates the work to a new audience and for posterity.
Information
Format: Hardback
Pages: 224 pages
Publisher: Oxford University Press
Publication Date: 26/07/2012
Category: Philosophy of language
ISBN: 9780199857999
Free Home Delivery
on all orders
Pick up orders
from local bookshops