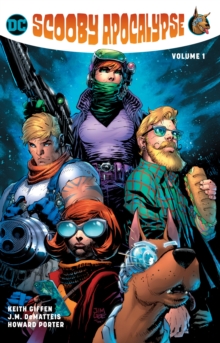 Scooby Apocalypse Vol. 1
Paperback / softback
Description
The Hanna-Barbera cartoon classic is re-imagined for a new generation inSCOOBY APOCALYPSE VOL. 1! When the world is tossed into chaos, it's up to agroup of meddling kids --Fred, Daphne, Velma, Shaggy, and their dog,Scooby-Doo-- to solve the mystery and survive hordes of zombies!
But can theysave the day and cure everyone or will they become brain-eating zombies?
Thecreatures of the night are among us, and the crew of the Mystery Machine has tofight to survive--because in the apocalyptic badlands of the near-future, thehorrors are real!
Hanna-Barbera has created some of the most recognizableanimated characters of all-time.
As part of DC Comics' re-imagination ofcartoons like Scooby-Doo, The Flintsones, Johnny Quest, Space Ghost and WackyRacers, these new series will be infused with modern and contemporary conceptswhile keeping the heart and soul of the classic animation.
Collects SCOOBYAPOCALYPSE #1-6.
Information
Format:Paperback / softback
Pages:176 pages
Publisher:DC Comics
Publication Date:07/02/2017
Category:
ISBN:9781401267902