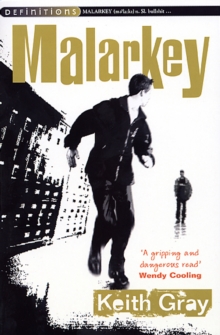 Description
Brook High is a great grey concrete ants' nest of a school.
John Malarkey is the new kid, thrown in at the deep end of Year 11.
He's the wrong person in the wrong place at the wrong time.
Through what at first appears to be a random meeting, he helps a girl called Mary Chase out of a tricky situation, but is subsequently accused of stealing report cards to sell to students so they can write their own bogus reports.
He quickly realises it was all a set-up, and that he's been used to take the fall.
The teacher who accuses him of the crime gives him one day to prove his innocence.
Malarkey tries to track down Mary Chase, but it's difficult in such a huge place.
He does, however, discover strange goings-on beneath the surface of the normal school day.
The more questions he asks the deeper he becomes involved in the corrupt under-belly of the school.
He's also noticed the peculiar fact that so many kids at Brook wear Adidas trainers - black with the three white stripes.
He realises that these are the badge of membership worn by those involved in the school's 'mafia'.
He discovers that the name of the organisation's leader is Freddie Cloth, and Mary Chase turns out to be Cloth's girlfriend.
Malarkey is soon noticed for asking so many questions, and receives warnings and then threats to back down.
But, with time quickly running out for him, he still has to prove his innocence. And the only way to do this is to get to Freddie Cloth.
Information
Format: Paperback
Pages: 208 pages
Publisher: Random House Children's Publishers UK
Publication Date: 05/06/2003
Category: School
ISBN: 9780099439448
Free Home Delivery
on all orders
Pick up orders
from local bookshops
Reviews
Showing 1 - 1 of 1 reviews.
Review by JacInABook
16/06/2015
"The wrong person in the wrong place at the wrong time"… John Malarkey, 16 years old, two weeks at a new school, mid-term, and his life seems to fall apart. With the threat of exclusion and worse hanging over him, he moves through the periphery of school life trying to work out the who, the why and most importantly for him the "why me?".Set in the English school system and describing budding teenage gangsters, bullying, money making schemes and a teaching staff that have little time and even less idea as to what is going on under their noses.The characters, plot and descriptions are so well written and believable and most especially the narrative of John Malarkey as he spends 24 hours trying to clear himself of the crimes he has been falsely accused of.This story is enthralling. I could not stop reading and was disappointed when it finally came to an end. I just wanted it to go on and on. A very good read.