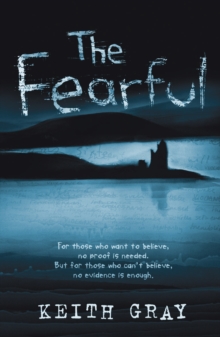 Description
In 1699 William Milmullen took his six pupils to the lakeside but only he returned after a creature rose up from the water and devoured the six boys right before his eyes.
The whole town was shocked and terrified by the tragedy.
Many were now too frightened to go out on the lake to fish, and the town's economy was under threat.
William Milmullen recovered from the shock of what he'd seen.
He named the creature 'The Mourn', and declared himself 'Mourner'.
He took upon himself the responsibility to appease the creature by feeding livestock into the lake and vowed his family would forever be responsible for the safety of the town, and that every Milmullen son would take the mantle of Mourner at the age of 16.
This novel is set in the present day, and nobody believes in monsters anymore.
These days the town is somewhat embarrassed about its monster stories and to many the Milmullen family is a bit of a joke.
The family, however, have held onto their duty, believing that if they forsake the creature it will rise from the lake again.
Tim Milmullen turns 16 in a week's time. On his birthday he will become the 13th Mourner. But Tim doesn't know if he wants the role. For one thing all the kids at school tease him, calling his father crazy, saying Old William back in 1699 killed the schoolboys himself and made up the story. And Tim's biggest problem is that he doesn't know if he believes in the legend or not.
How can he dedicate his whole life to something he has never seen?
Information
Format: Paperback
Pages: 304 pages
Publisher: Random House Children's Publishers UK
Publication Date: 01/08/2006
Category: Adventure
ISBN: 9780099456568
Free Home Delivery
on all orders
Pick up orders
from local bookshops
Reviews
Showing 1 - 1 of 1 reviews.
Review by elliepotten
16/06/2015
"... and the first-born of Mourn Home, my son William, will follow me at that time he turns sixteen. This will be the precedent for all Mourners and their sons, for there must always be a Mourner for Moutonby's lost children...."In 1699 a monster rose from the depths of Lake Mou, Yorkshire, and snatched five schoolboys from the shore... or so local lore says. A handful of Moutonby's residents still believe, but everyone else is now firmly living in the modern world - including Tim. Which is a bit unfortunate, as Tim is due to take over from his father as Mourner in a few days' time. It will be his job to keep Mourn Home running (it's now a failing guest house), and to protect the town from the Mourn of legend by appeasing it with weekly Feeds, carefully honed rituals and constant vigilance. But just as Tim has made the decision to escape his fate and his family's obsession, a boy disappears out on the lake. Now Tim must make up his mind once and for all, and make the hardest choice of his life: throw away his future by staying put, even if the Mourn doesn't exist - or risk everyone's safety by leaving if it does?This is quite a complex little novel, filled with philosophical twists and turns as Tim struggles with his doubts about the Mourn's existence. Along the way Gray raises many questions about the nature of faith and belief. Is circumstantial evidence ever enough? Can we ever truly believe when we have never seen something with our own eyes? Does faithful duty win out over personal fulfillment? Has modern life taken away our capacity to believe - or helped us overcome the superstitions of our ancestors? The Fearful could be read as a story about religion, as a philosophical and ethical debate, or simply enjoyed as an exciting children's thriller about a monster in the water.Personally, I read it as a little of all three. Gray definitely managed to keep me wondering, posing a genuine 'Is there or isn't there?' conundrum that had my brain cells ticking over even when I wasn't reading. He makes up for the slightly slower sections with some nail-bitingly dramatic scenes, and there are some beautiful little touches in his prose that made me wish I'd written them! He evokes the stifling fear of the Mourn brilliantly, with a constant feeling of claustrophobia hanging over Tim's lakeside existence. Monsters aside, the Milmullen family is warmly written, and Tim's coming-of-age story is very relatable - being fairly local to me, the teenage slang and even the school routine was almost exactly as I remember mine, which was refreshing! I think the only thing that really disappointed me was the ending, which proved a frustratingly inconclusive anti-climax and seemed more tailored to the religious themes than to creating a cracking finale to a YA novel. Tentatively recommended.