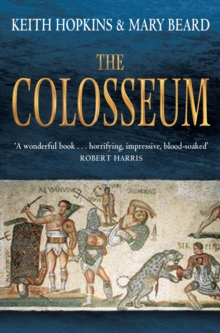 Description
The Colosseum was Imperial Rome's monument to warfare.
Like a cathedral of death it towered over the city and invited its citizens, 50,000 at a time, to watch murderous gladiatorial games.
It is now visited by two million visitors a year (Hitler was among them).
Award winning classicist, Mary Beard with Keith Hopkins, tell the story of Rome's greatest arena: how it was built; the gladiatorial and other games that were held there; the training of the gladiators; the audiences who revelled in the games, the emperors who staged them and the critics. And the strange after story - the Colosseum has been fort, store, church, and glue factory.
Information
Format: Paperback
Pages: 224 pages
Publisher: Profile Books Ltd
Publication Date: 01/04/2011
Category: European history
ISBN: 9781846684708
Free Home Delivery
on all orders
Pick up orders
from local bookshops
Reviews
Showing 1 - 2 of 2 reviews.
Review by shanaqui
16/06/2015
This book isn't quite as exhaustive as Mary Beard's book on Pompeii, but it's very good. It discusses both the popular myths about the Colosseum and the truths, if any, behind them. It's also nice that Mary Beard and Keith Hopkins recognise that they could be wrong, and that future archaelogy could show them to be as wrong as the people whose comments and theories they disparage.<br/><br/>It's well written and interesting, including notes and further reading. They seem, for my memories of Rome, to be a pretty fair bit of advice.
Review by Luftwaffe_Flak
16/06/2015
While the authors have interesting points it feels as if they try to cover too much in too little space. Many things I would have liked to have been elaborated on were only mentioned in passing in one sentence, while other things that didnt seem as interesting were discussed at times for pages. This obviously is rather opinion based but this book is merely ok, nothing great but not horrible either.