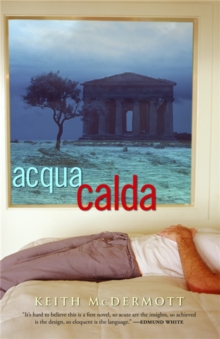 Acqua Calda : A Novel
Paperback / softback
Description
For years Gerald lived for his twin passions, acting and sex.
As a handsome young actor, he found plenty of opportunities to perform in both arenas.
But that was years ago, long before AIDS hit the theatre world hard , and gay circles even harder.
No in demand, Gerald is waiting to die. He's drawn up a last will and testament, assigned a health care proxy, arranged his own cremation, has thrown out hundreds of photos accrued over his twenty-five years of acting, along with boxes of gay porn and his journals.
Gerald's acquired a hefty collection of barbiturates for when things get too "icky." Just when things appear the worse, William Weiss calls and Gerald's life is resurrected.
An eccentric avant-garde director, Weiss invites Gerald to perform in a play in Sicily.
As a founding member of Weiss's first company, Gerald is aware of the director's cult-like hold over actors, but he accepts.
From the first rehearsal, Weiss nurtures the chaos in which he is most at home.
Gerald's health remains precarious, but as opening night approaches, the play begins to take shape.
Gerald's spirits soar as he reconnects with lost joy.
Information
Format: Paperback / softback
Pages: 315 pages
Publisher: Carroll & Graf Publishers Inc
Publication Date: 29/03/2006
ISBN: 9780786717651
Free Home Delivery
on all orders
Pick up orders
from local bookshops