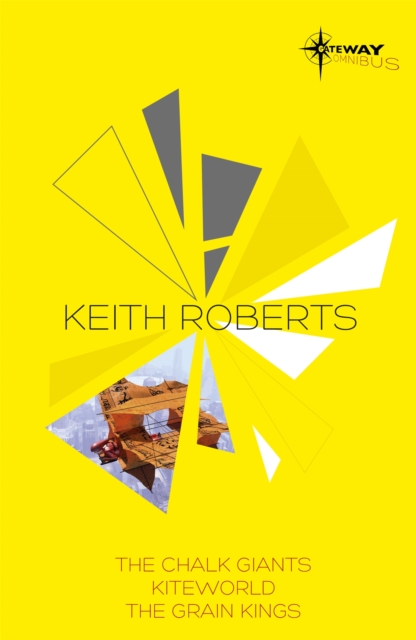 Keith Roberts SF Gateway Omnibus : The Chalk Giants, Kiteworld, The Grain Kings
Paperback / softback
Description
As author and illustrator, Keith Roberts did more than most to define the look of UK science fiction magazines in the 1960s.
In addition to his BFSA Award wins, he was nominated for the Hugo, Nebula and Arthur C.
Clarke Awards. He is perhaps best known for his seminal alternate history novel, Pavane, but his work covered a broad range of SF's tropes and settings, as can be seen from the titles collected in this omnibus: The Chalk Giants, Kiteworld and The Grain Kings.
THE CHALK GIANTS: After the apocalypse the hazardous evolution of mankind continues. And in primeval response to the disaster, humanity's solutions to catastrophe carve the harsh new world in violent patterns of magic and myth, rite and religion.
Brave images scar the ancient hills, the clash of swords and the ageless power of sexuality sign-post another, bloodsoaked path to civilisation. KITEWORLD: Powerful churches have long kept their grip on the people with a theology of fear that makes formidable demons out of the poor, weak mutants of the surrounding badlands.
To ward off these specters, an elaborate, tradition-encrusted system of kites with hex signs or armed observers fly over the realm.
The men of this Kite Corps, performing hazardous duty to sustain a myth, are driven to find a separate peace, to transform, if they can, disillusionment into enlightenment, to move forward from an assumption of guilt to an assumption of responsibility. THE GRAIN KINGS: They call them The Grain Kings. Gigantic mechanical monarchs of the wheat-bearing plains that were once the frozen Alaskan wastes.
Whole eco-systems in themselves, they can supply the food so desperately needed by the teeming millions of our overpopulated planet.
But even now, as the whole world waits in hungry suspense, the great powers battle for control of the prairies and two competing combine harvesters find they are heading on a course of collision.
Information
Format:Paperback / softback
Pages:624 pages
Publisher:Orion Publishing Co
Publication Date:26/09/2013
Category:
ISBN:9780575105225
Information
Format:Paperback / softback
Pages:624 pages
Publisher:Orion Publishing Co
Publication Date:26/09/2013
Category:
ISBN:9780575105225