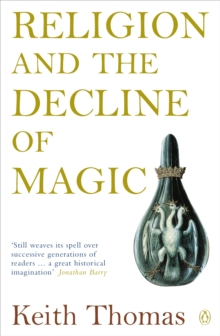 Religion and the Decline of Magic : Studies in Popular Beliefs in Sixteenth and Seventeenth-Century England
Paperback
Description
Witchcraft, astrology, divination and every kind of popular magic flourished in England during the sixteenth and seventeenth centuries, from the belief that a blessed amulet could prevent the assaults of the Devil to the use of the same charms to recover stolen goods.
At the same time the Protestant Reformation attempted to take the magic out of religion, and scientists were developing new explanations of the universe.
Keith Thomas's classic analysis of beliefs held on every level of English society begins with the collapse of the medieval Church and ends with the changing intellectual atmosphere around 1700, when science and rationalism began to challenge the older systems of belief.
Information
Format: Paperback
Pages: 880 pages
Publisher: Penguin Books Ltd
Publication Date: 12/12/1991
Category: British & Irish history
ISBN: 9780140137446
Free Home Delivery
on all orders
Pick up orders
from local bookshops
Reviews
Showing 1 - 4 of 4 reviews.
Review by heidilove
16/06/2015
this is a thought-provoking book, but i'm not convinced that thomas makes the point he claims in the title. if magic has declined, or our sense of it, then i shudder to think of what it once was.
Review by KarelDhuyvetters
16/06/2015
This is my kind of book! Thoroughly researched with all the sources at the bottom of every page, beautyfully written, clearly expressed ideas, a surprising or enlightening fact or remark in almost every paragraph. There is no magic in professor Thomas's method, but it works magic with me: it makes me think and understand. His basic approach to religion is sound: it is the work of men, not of any God. His verdict on the churches is subtly but unmistakingly there: like the witches, the wizards and the cunning men and women, the priests are taking advantage of the need some people have for magic, and exploit them for their own profit. I admired professor Richard Dawkins' effort, but professor Thomas's 'Decline' is more damning for religion than 'The God Delusion'.
Review by mnicol
16/06/2015
A demanding read but absolutely worthwhile. We live with more uncertainty today than ever before and the mystery is why we rely less on diviners, magicians and wizards, not why they were abandoned. Although dodgy statistics and intricate computer models play the part of the entrail reader as decision makers today leap into the dark!
Review by dmsteyn
16/06/2015
The concept of magic is a fascinating one, no doubt. The amount of fiction that contains some or other kind of magic is astonishing, but what is even more astonishing is the beliefs that people have had (or continue to have) about "actual" magic. In Religion and the Decline of Magic, Keith Thomas takes a look at these beliefs as they were manifested in sixteenth- and seventeenth-century England. This is a fascinating study which reveals Thomas's rigorous delving in the records and archives, and his deep insight into the beliefs of his ancestors.I received this Folio edition as a present. It has a wonderful introduction by Hilary Mantel in which she expresses her admiration for Thomas's erudition. What is even more remarkable about Thomas's exhaustive research is that the book came out in the 1970s. Of course, there has also been more recent research into this field, and Mantel acknowledges that some of Thomas's conclusions might require emendation. But on the whole she seems genuinely impressed with the book's approach and judgements.Thomas begins by considering the role of religion in people's magical beliefs during the period. He first considers the quasi-magical practices of the traditional Catholic clergy, including exorcism, transubstantiation, saints, indulgences, and so forth. Thomas then considers the impact of the Reformation on people's beliefs, which, despite the efforts of the Puritans, did not bring an end to beliefs in magic, witches, ghosts, fairies, etc. There are excellent subsections on the role of Providence in people's beliefs, and how prayer and biblical prophecy influenced popular ideas about magic.The next main section concerns magic itself, with Thomas investigating the idea of magical healing (which included healing by touch, as appropriated by the royalty, who claimed to be able to cure scrofula, or the "King's evil"), and the role of "cunning men" and "wise women" in village life. Most of these "charmers" were concerned with finding lost property and with divination, and had little or no knowledge of theoretical magical learning, like that of Paracelsus, Agrippa, or Jakob Boehme. He then considers how these beliefs were attacked by the religious authorities, and yet were often instigated and supported by religious beliefs in concepts like the soul and the afterlife.Thomas has an excellent section on astrology, in which he considers its practice and extent, its social and intellectual role, and the similarities and differences between it and religious practices. He then considers how ancient prophecies (which probably were not that ancient) influenced people during this time.Probably the most interesting and thorough section is the one on witchcraft in England. Thomas considers how witchcraft became a crime and its history in England. Interestingly, he shows how most prosecutions were based on the belief in maleficent actions (those that caused harm to others), and not usually on the claim that witches were devil-worshipers. In his subsection on witchcraft and religion, Thomas considers contemporary beliefs concerning the Devil, as well as those concerning possession by demons. He has much to say about the Malleus Maleficarum (a Catholic treatise on witches) and how it influenced beliefs concerning witches. He has a wonderful section on "The Making of a Witch", in which he considers cursing and the supposed temptation to devil-worship. Thomas shows that the idea of "covens" of witches and "black Sabbaths" are nearly completely unsupported by the evidence for the era. The idea of a far-ranging "witch-cult" in Western Europe is also dismissed. Despite this, Thomas does consider what might have tempted people (mostly women) into becoming witches, even though they did not have any real powers. He then investigates the social environment that led to witch-beliefs, and finally considers the reasons for the decline of belief in witchcraft.The thinnest section is termed "Allied Beliefs", in which Thomas considers the contemporary beliefs in ghosts and fairies, as well as omens. I say "thinnest", but this is really only in comparison to the previous section, as Thomas still does an excellent job in delineating the popular beliefs concerning spirits and signs.The whole book is a magisterial attempt to synthesise research on occult beliefs during the sixteenth and seventeenth centuries in England. Thomas accomplishes this with wit and excellent writing. The only real criticism I could level at the book is his use of examples from Africa to substantiate his conclusions. This might merely reflect views prominent in the 1970s, but "Africa" is hardly a homogenous continent to which one can blithely refer without specifying countries and peoples. Thomas does admittedly make this clearer in his notes, but it was a small irritation. On the whole, however, I found the book to be a wonderful compendium with rich insights into the beliefs of early modern England.