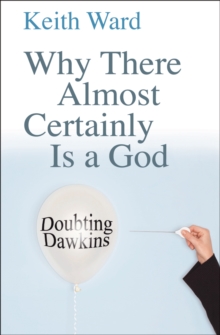 Why There Almost Certainly is a God : Doubting Dawkins
Paperback
Description
Richard Dawkins claimed that 'no theologian has ever produced a satisfactory response to his arguments'. Well-known broadcaster and author Keith Ward is one of Britain's foremost philosopher- theologians.
This is his response. Ward welcomes all comers into philosophy's world of clear definitions, sharp arguments, and diverse conclusions.
But when Dawkins enters this world, his passion tends to get the better of him, and he descends into stereotyping, pastiche, and mockery.
In this stimulating and thought-provoking philosophical challenge, Ward demonstrates not only how Dawkins' arguments are flawed, but that a perfectly rational case can be made that there, almost certainly, is a God.
Information
Format: Paperback
Pages: 160 pages
Publisher: Lion Hudson Plc
Publication Date: 01/08/2008
Category: Nature & existence of God
ISBN: 9780745953304
Free Home Delivery
on all orders
Pick up orders
from local bookshops
Reviews
Showing 1 - 2 of 2 reviews.
Review by sirfurboy
16/06/2015
This book took me several days to read despite the fact it is relatively short at 150 pages. The reason is the content. Here at last is a book that avoids simplistic platitudes and tired old arguments traded by one side or another in religious debates. Instead the author builds a philosophical argument that systematically deconstructs the unchallenged assumptions of Dawkin's materialism, and replaces them with a philosophical framework that is at its core rational and consistent - and that makes God necessary.Keith Ward is much more honest than certain other writers in this book. His case is convincing, but he draws attention to its limitations - primarily that we must assume the universe is both rational and intelligible. Thus ultimately all he can tell us is "why there almost certainly is a God". But he does exactly that. The book is heavy going, and will probably only be appreciated fully by readers who know at least some philosophy, some logic and some physics. Ward does his best to put the argument in terms that don't require such a grounding, but the argument relies heavily on the understanding of terms such as necessity, contingency and other such concepts that are the bread and butter of philosophers, but not often discussed over a game of darts in the pub.But it is quite clear that Keith Ward does something quite remarkable - he pulls the rug from under the assumptions of materialism, and if nothing else, it shows that the arguments of Dawkins et al. cause rather more problems than they resolve. The clear message of this book -whether you accept the hypothesis of God's existence or not - is that belief in God is profoundly a rational belief.Thoroughly recommended - a book to make you think long and hard whether you agree with it or not.
Review by maxim.wilson
16/06/2015
given me by Margaret saylor. Very heavy-going , philosophica, yet intriguing.Didnt change my views at all.