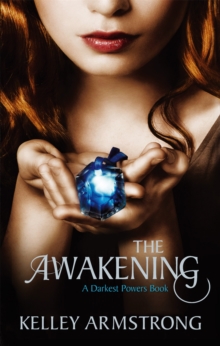 The Awakening : Number 2 in series
Paperback
Description
Chloe Saunders used to be a normal teenage girl - or so she thought.
Then she learned the shocking truth - she is a walking science experiment.
Genetically altered at birth by a sinister group of scientists known as the Edison Group, Chloe is an aberration - a powerful necromancer who can see ghosts and even raise the dead, often with terrifying consequences.
Even worse, her growing powers have made her a threat to the surviving members of the Edison Group, who have decided it's time to end their experiment - permanently ...Now Chloe is running for her life with three other supernatural teenagers - a charming sorcerer, a troubled werewolf and a temperamental young witch.
Together they have a chance for freedom - but can Chloe trust her new friends?
Information
Format: Paperback
Pages: 368 pages
Publisher: Little, Brown Book Group
Publication Date: 01/02/2011
Category: Fantasy
ISBN: 9781907410079
Other Formats
Paperback from £7.25
EPUB from £4.99
Free Home Delivery
on all orders
Pick up orders
from local bookshops
Reviews
Showing 1 - 3 of 3 reviews.
Review by sithereandread
16/06/2015
Another slam dunk for Kelley Armstrong in this mind-tingling action-packed novel. The book begins with Chloe in the locked Edison Group facility after revealing to her friend that she is actually dead. She soon learns that the people of the Edison Group are not as nice as they seem. I really enjoyed this novel because I already knew these characters and I was interested to see how they came into their powers when danger arose. I have to say I need to stop guessing when it comes to her novels because most of the time I am usually wrong and people are not always what they seem.It was nice to read about the realtionship between Derek and Chloe. In The Summoning their relationship was very strained because of the secret of what Derek was, but the fact that these two are so different makes them perfect companions. We also delved deeper into Derek's secret agenda involving the Pack which happens to live closeby. I also enjoyed the character of Liz, we missed out on a lot of her in the first novel, but this novel really showed how strong of a character she was, although Chloe was the only one to truly recognize it.After reading other reviews about this novel, some say it was very slow and just a "middle" book, just setting us up for the end novel. I disagree. This novel explored more of the "coming of age" and power of these teenagers. Other novels explore characters already knowing their powers, but this particular series shows the troubles of learning to harness and control something that they never chose.
Review by sedelia
16/06/2015
The Awakening is definitely better than the first book of the series. There's more of a focused conflict, there's more action and adventure, and the characters are rapidly evolving. As always, Armstrong's writing is suspenseful and makes for a quick read (I don't know how she does it!)I like that more and more is being revealed about their powers and about the Edison Group, but we're definitely still not getting the full story. In any case, Chloe is learning a bit more about her powers and is practicing more often. We get to see more of Derek, who is awesome, and Victoria, who I'm actually starting to feel bad for.The one thing I didn't like about this novel was how stupid Victoria could be sometimes. I know she's spoiled, I know there should be conflict between the characters, but really? Sometimes, I just wanted to jump through the book and give her a good slap. I also got tired of Chloe continually comparing her life to the movies. I know, she's a movie buff and that's probably what a movie buff would do, but it did get overwhelming. I don't like it in general when authors use the whole "in movies/novels, it works like this, but this is real life" for when their characters are thinking. This just draws my attention to the fact that I am reading a book and it isn't real life.However, other than those two things, The Awakening was perfect. Armstrong does not make it easy on her characters, which makes for a suspenseful, exciting read. There are also some really cool (horribly frightening?) zombie scenes when Chloe's power gets a little out of control. :) I love the weird stuff.I am very excited to read The Reckoning. If you haven't started this series yet and you're a paranormal young adult fan, run, don't walk, to the nearest library or bookstore and pick these books up!
Review by krissa
16/06/2015
*POSSIBLE SPOILERS, PROCEED AT YOUR OWN RISK*In my opinion, this book is way better than the first. That could be cause there is more story than back story, or I am just more into it. This one (the second book in the series) takes place in "the world" with the teens on their own. I think it is in this one I can really see the teens starting to bond as a team. They are starting to build individual relationships between different members of the team, and through this, learning to trust each other. um. Did anyone else noticed they are obsessed with energy bars? I know it's not like they have time to stop to eat, or can't afford a real restaurant, but really? I stopped counting how many times the author brought them up. It became distracting. I was wondering why they couldn't find a granola bar or fruit snack or something. The love triangle vibe I am starting to feel? Not cool. Triangles are bad enough, but between 'brothers'? I guess it's an ongoing thing she can drag out, to keep the readers guessing, but for me it works the opposite. I find myself wanting to stop reading. (but I am assuming it's an age thing). Most of the book was spent looking for trustworthy adults. It made me wonder. If you find adults you think you can trust, do things really get better? And the bat scene? It was really creepy (not sure if that is in a good way or a bad way yet). I had to stop reading and walk away for a bit. It STILL makes me itch to think about. And one more thing? Enough with the (un)dead animals. The whole attitude of 'Let's go out to the forest and find dead things, so we can practice raising them, and pushing them back'. I kind of get, but twisted and disturbing. But with all that said, pretty good series, that I will continue with, for at least one more book.*END SPOILERS*
Also in the Darkest Powers series | View all