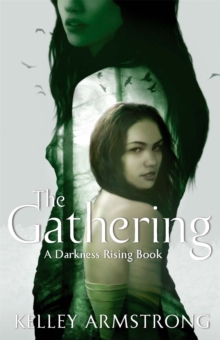 The Gathering : Number 1 in series
Paperback
Description
The world seemed to dip and darken and I smelled wet earth and thick musk and fresh blood.
The wind whipped past, like I was running. Running so fast the ground whizzed beneath me and the wind cut across my skin . . .Maya Delaney has always felt a close bond with nature.
The woods around her home are a much-loved sanctuary - and the pawprint birthmark on her hip feels like a sign that she belongs.
But then strange and terrible things begin to happen in the tiny medical-research town of Salmon Creek (population: 200).
The captain of the swim team drowns mysteriously in the middle of a calm lake.
Mountain lions appear around Maya's home, and won't go away.
Her best friend, Daniel, starts experiencing 'bad vibes' about certain people and things.
One of those people is Rafe - the new bad boy in town.
What is he hiding - and why is he suddenly so interested in Maya . . . ?
Information
Format: Paperback
Pages: 384 pages
Publisher: Little, Brown Book Group
Publication Date: 01/04/2011
Category: Fantasy
ISBN: 9781907410178
Free Home Delivery
on all orders
Pick up orders
from local bookshops
Reviews
Showing 1 - 4 of 4 reviews.
Review by sithereandread
16/06/2015
THE GATHERING, by Kelley Armstrong, is the start of her second YA series. After reading the whole Darkest Powers series, I was dying to jump into the start of this new one, still taking place in the same 'world' but with new characters. I love Kelley Armstrong. Ask anyone who knows me and they can probably tell you she is one of my favorites. I will read anything with her name on it no questions asked. I love the 'Otherworld' that she created that spans across her series's. BUT, I have to say this was the first time I was slightly disappointed. Let me explain...The first chapter hooked me right away, the drowning of Maya's best friend sent shock waves of sadness through me. I needed to know what happened. Also, the mysterious heritage that Maya soon discovered via a crazy old woman made me crazy with anticipation. Let's add in a new kid who is hot and has the hots for our leading lady (with an equally hot best guy friend). These elements raised questions that I was dying to have answered. But sadly, at the end of the book I felt I needed more.This book felt like just an introduction to the series and not a self-contained book. Maya's heritage was explained somewhat, but a zillion other questions were left hanging. The pace was always high but I felt it ended too quickly and easy. Overall, I did like the story. I fell in love with the characters (Rafe and Daniel especially, yum!) and the unique circumstances Maya experienced. The romance was steamy and the mystery of the small Canadian town piqued my interest. I loved Maya's connections and powers with animals and I yearned for each time she experienced them. The book as a whole was a great start to the series and although I expected more from it, I am actually dying to read the next book for more of my questions to be answered. Cover note: Love this cover! The blue hues make it look mysterious and I would definitely buy this book right off the shelf for the cover alone.
Review by jacindahinten
16/06/2015
Kelley Armstrong is a wonderful story-teller. I was captivated through the first third of the book without much of the paranormal aspect of the story coming into play yet. Many situations and such seemed very contemporary. Only at the end were we really reminded The Gathering is not…well, contemporary. Maya is very strong character! She built strong relationships with the people around her. She's very loyal to her family, friends, and all the furry (or scary) animals she rehabilitates. There's just something about Rafe, I don't even know what it is. Maya actually mentions in the book he isn't drop dead gorgeous, but probably the mystery initially about him drew her too him. Rafe never gives up and has loyalty and determination just like Maya. Rafe can be very sweet and I love how he acts when he's around Maya. Daniel, Maya's best friend, is the quintessential best friend. He's pretty much perfect in that area. He voices his opinions to Maya, but still lets her do things on her own. Maya acts the same way towards Daniel. The Gathering left me with many questions and such. I've read a couple of reviews who already had read the Darkest Powers Trilogy beforehand and made it a bit less mysterious for them. I was fine with the mystery and still am even though it seemed like way too many questions are left unanswered. Those open-ended questions are making it seem like the next book is going to take forever to release! I seriously am a kind of clueless as to what is happening, which is fantastic! I've never read a Kelley Armstrong book before, The Gathering is my first. After reading The Gathering, I'm planning on reading her other books! P.S. Maya's relationship with her father…I cracked up all the time! The uncomfortable situations she put him in by being very blunt about herself with boys and other teenage girl problems, even though it was false, had me laughing. Watching her dad squirm and embarrassed was memorable.
Review by theflutterbyroom
16/06/2015
I will preface this review by admitting that I am a huge fan of Kelley Armstrong's, and I have read all of her books (though not many anthologies) which have so far been published in the UK. I was introduced to her through reading her book Bitten – the first book of her Women of the Otherworld Series which is aimed at an adult readership.The Gathering is the first book in Kelley Armstrong's new Young Adult (YA) series The Darkness Rising. This is Armstrong's second foray into the YA market, the first being her The Darkest Powers Trilogy. Like her previous works, The Gathering is set in a world similar to our own but with some vital differences – how it differs is only hinted at in this book, but if you've read any of her other works then you'll have a pretty good idea. If you've not read any of her books before then don't worry, as this series works as a stand-alone (based on the evidence of this book).The main character of this book is Maya Delaney, a teen with Native American heritage but who was adopted when she was a baby. She is a very likeable and well-rounded character. In fact, although this is never really explicitly mentioned in the book, she is rather popular. This may be because there are only sixty-eight children in her school, and the population of Salmon Creek is only 200, but it is hinted that this is not why. She certainly seems to be well liked on the whole by her peers and by the adults of the community. Maya has a strong like for the outdoors and for wildlife which percolates throughout the book – she looks after injured wildlife and then releases it back into the wild once it is well. Her friendship with Daniel is a strong and deep one, despite the slight distance between the characters – there doesn't seem to be many secrets between them, and their lives seem very closely entwined – and there is no sense of romance between them. They are just two good friends – Maya seems to be the only girl of her peers who isn't attracted to Daniel.The book opens with a bang, which won't be much of a surprise for readers as the first nine chapter is available online (just visit her website to have a taste of this book). At first everything seems very ordinary, and then things fast go downhill. This event sets up the whole book (and quite possibly the whole series). It certainly changes a lot of things for both Maya and Daniel. The next chapter takes place nearly a year after this event, showing both how things have changed and how things have remained the same. There is a sense of deep community ties within the book, as everyone seems to know what is going on with everyone else and Maya is very much a part of this. There is also the feeling that you are either part of the community or you are not, as the kids are taught how to handle people who ask questions about Salmon Creek – this is most definitely a reflection of the fact that Salmon Creek supports a medical-research lab. The lab in question seems to be very high security, but it provides a lot of benefits for the people of Salmon Creek – however, there is a sense of mystery surrounding it despite its seeming openness.The plot of The Gathering is made up of three main themes: mystery, romance and friendship. Of these, mystery and friendship are the most predominant ones. The romance in the book doesn't appear until over fourteen chapters in to the story – so if you're looking for a quick romance story, then this isn't the book for you. Armstrong handles the romance element of the story with charm and grace. There is enough of it to keep the story interesting, but not so much that if it's not your kind of thing you find yourself flipping through the pages until you find the end. The mystery and the friendship themes percolate through the book from the opening chapter. There are several mysteries presented as the story progresses, though few of them are answered in this book and the book itself ends on a cliff-hanger – but don't let this put you off! The mysteries Armstrong presents are both big ones and small ones, and much of the book is a quest for answers – which Maya and Daniel are unable to get due to outside events. As this is the first book in the series the lack of answers is somewhat to be expected – why else would we want to progress to the next book? – and whilst the lack of answers is somewhat frustrating, I find myself eagerly anticipating the next book in the series.If you're a fan of Urban Fantasy then I think that this is a must read for 2011.
Review by Yogiboo
16/06/2015
Not as good as The Summoning as a start of a trilogy but it was ok. Took me a while to get into it but I do like the way Kelley Armstrong writes. The book will grip you and you will want more and more. Maya is a strong female lead. Love interests Daniel and Rafe are great male characters. Daniel -strong silent type and Rafe sexy broody bad boy that's not so bad! 1st book ended on a good note, looking forward to the next one...
Also in the Darkness Rising series | View all