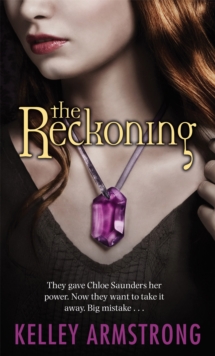 The Reckoning : They Gave Chloe Saunders Her Power. Now They Want to Take it Away. Big Mistake...
Paperback
Description
The nail-biting climax to Kelley Armstrong's bestselling Darkest Powers trilogy Chloe Saunders is fifteen and would love to be normal.
Unfortunately, Chloe happens to be a genetically engineered necromancer who can raise the dead without even trying.
She and her equally gifted (or should that be 'cursed'?) friends are now running for their lives from the evil corporation that created them.
As if that's not enough, Chloe is struggling with her feelings for Simon, a sweet-tempered sorcerer, and his brother Derek, a not so sweet-tempered werewolf. And she has a horrible feeling she's leaning towards the werewolf...Definitely not normal.
Information
Format: Paperback
Pages: 400 pages
Publisher: Little, Brown Book Group
Publication Date: 06/04/2010
Category: Fantasy
ISBN: 9781841497129
Free Home Delivery
on all orders
Pick up orders
from local bookshops
Reviews
Showing 1 - 5 of 27 reviews.
Previous | Next
Review by JessicaLouise23
16/06/2015
This is the third and final book in the darkest powers trilogy there may be spoilers from the first two books you have been warned!I've really enjoyed this young adult series by Kelly Armstrong, and so I'm definitely going to be checking out her adult books in the near future. If you're reading this review then I take it you've read the other two books and know what the story's about so I won't go into that. Chances are if you enjoyed the first two books you're going to enjoy this one- I know I did! As usual the writing was brilliant, the plot action packed and the characters their usual delightful selves. I really wanted to give this book 5 star's because I really have enjoyed this series but I was really rather peeved that a lot of my questions didn't get answered. I know that Kelley's releasing another series set in this world with some of the characters from this series in it but I felt a bit cheated that if you want some answers you'll have to read the other series to find out. I really think that was unfair and she should have tied everything up properly. You don't get to find out why Chloe's necklace changes colour and what that means. Nor do you get to really find out what happens to Rae which really irked me. I will be reading The Gathering though so hopefully I'll get my answers eventually, but still definitely a bit of a con to get others to read her next series. Over all though I thought this was a very enjoyable book and I loved seeing Chloe get the boy I hoped she'd end up with. Thank you Kelley Armstrong for writing such a wonderfully action packed original series. 4 stars.
Review by xbetty
16/06/2015
When I find out a book will continue in more than one book I get a little wary. What if I don't enjoy the first book? It'll put me off next two, which I could possibly enjoy? Or I don't enjoy the second, but am forced to read the last to see how the whole thing ends (because I will, it's impossible for me not to).Even the fact that this series was written by one of my favourite authors didn't lay rest to my fears and when I grabbed a copy of The Summoning I actually left it for a while before I started reading. I'm just sorry I left it sitting on my shelf for so long before getting around to it! Armstrong has crafted a totally original idea spun inside the world she's already created with the Women of The Otherworld series.This review may be a little vauge, it's simply because there's no way of writing much without giving away key factors of the book and I don't want to spoil anything for those who haven't read it or haven't read the first two either.The Reckoning picks up from where we were left at the end of the Awakening. The foursome is still on the run from the Edison Group. But may not be as safe as they've been led to believe.More is revealed of the Edison Group, and what they're planning. We're not given too much information, but enough to keep you hanging for the next installment to find out what else they've been up to.The characters have all come a long way from the first book, and the growth is evident in the pages of The Reckoning. All four characters have changed and come to accept the powers bestowed upon them.Oh, and there's also the little matter of the love triangle involving one sorcerer and a werewolf.Final Thoughts…I was a little disappointed in the ending; I'm not going to lie. It doesn't subtract from the rest of the novel, as I knew this would not be the end, just the end of the story of these characters. Kelley already has another trilogy planned for this series, The Gathering. Though I'm excited about this and know we'll learn more through the next series of books. I do wish there would have been some closure on Chloe's story than the open ending we were left with.Now this is just the inner fangirl in me raving, but I would love to see a cross over of both of Kelley's worlds meeting, or being aware of the other. I actually got the chance to ask Kelley this myself when she came through for a reading. Her answer (summarized) was that if the 'adults' found out then they would just come in and take over, leaving the kids to the side. I agree with her completely, but it doesn't stop me from wishing Chloe and Jamie would run into one another!
Review by eheinlen
16/06/2015
Excellent third book in the series. I loved the way that the story played out. It was extremely believable. Her characters are so vivid and real that you can easily get lost on their adventures.
Review by MrsBakitch
16/06/2015
This was a fantastic series and I highly recommend it. You do need to read book 1 and 2 first though.
Review by Suzanne520
16/06/2015
This book was so amazing, I couldn't stand to put it down! I love how they created Derrek, it is awesome to see his vulnerable side! The only bad part of this book was I didn't want it to be over, I was so into it. The ending was good too, all though she did leave room for a sequel! It's a trilogy though, and this was the third, so I am really hoping she does a spin off sequel set or something because I love this series! I dreamt about these characters last night! I am so attached!
Also in the Darkest Powers series | View all