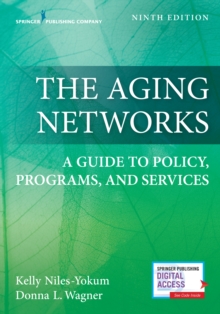 The Aging Networks : A Guide to Policy, Programs, and Services
Paperback / softback
Description
This classic text-more relevant than ever as our population rapidly ages-delivers comprehensive and up-to-date knowledge about aging services in the U.S.
Written for both students and practitioners of gerontology, along with all professionals involved in the well-being of older adults, this highly accessible book provides a current and detailed description and analysis of local to global services for older people with or without cognitive, physical, or social needs. The Ninth Edition is updated to reflect critical changes to legislation, health care, and recent trends.
It focuses on the strengths and diversity of older adults and the role our multilayered aging networks play in advocacy, community independence, and engagement.
Commentary and critical thinking challenges from policymakers, program directors, and educators facilitate high-level reasoning and independent analysis of aging networks past, present, and future.
The ninth edition also offers enhanced resources including a Test Bank, Instructor's Manual, PowerPoint slides, and links to video.
Additionally, the print version of the book includes free, searchable, digital access to the entire contents. New to the Ninth Edition:Fully updated to reflect historical context, recent trends and challenges, and future considerationsAddresses the effects of our current political and ideological landscape on aging networks including a Call to ActionExamines the current status of Medicare and Medicaid, Meals-on-Wheels, and the impact of the ACADiscusses long-term services and supports, disaster preparedness and climate change, caregiving as a human right, and LBGTQ services and supportPresents new case studies providing evidence-based best-practice initiatives and new innovationsDelivers enhanced instructor resources including Test Bank, Instructor's Manual, Power Point slides, and video linksIncludes eBook formatKey Features:Focuses on the strengths of older adults and the role our multilayered aging networks play in advocacy, community independence, and engagementProvides commentary and critical thinking challenges from policy-makers, program directors, and educators to facilitate high-level analysisAddresses changing demographics and future challengesOffers "Voices from the Field" boxes and "Critical Thinking" topics and questions to encourage reflection and discussion
Information
Format: Paperback / softback
Pages: 270 pages
Publisher: Springer Publishing Co Inc
Publication Date: 30/12/2018
Category: Care of the elderly
ISBN: 9780826146526