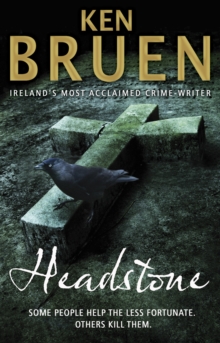 Description
Some people help the less fortunate. Others kill them. Evil has many guises. Jack Taylor has encountered most of them but nothing before has ever truly terrified him until a group called Headstone rears its ugly head.
An elderly priest is viciously beaten until nearly dead.
A special needs boy is brutally attacked. A series of seemingly random, insane, violent events even has the Guards shaken. Most would see a headstone as a marker of the dead, but this coterie of evil intends to act as a death knell to every aspect of Jack's life as an act of appalling violence alerts him to the horror enveloping Galway.
Accepting the power of Headstone, Jack realizes that in order to fight back he must relinquish the remaining shreds of what has made him human - knowledge that may have come too late to prevent an act of such ferocious evil that the whole country would be changed forever - and in the worst way. With awful clarity, Jack knows that not only might he be powerless to stop it but that he may not have the grit needed to even face it.
Information
Format: Paperback
Pages: 336 pages
Publisher: Transworld Publishers Ltd
Publication Date: 01/04/2013
Category: Thriller / suspense
ISBN: 9781848271180
Free Home Delivery
on all orders
Pick up orders
from local bookshops
Reviews
Showing 1 - 1 of 1 reviews.
Review by AHS-Wolfy
16/06/2015
One of the few ongoing series that I'm almost up-to-date with is the <i>Jack Taylor</i> one about an Irish private investigator set mostly in Galway. This is the ninth instalment in this violent and hard-hitting sequence of books which sees the protagonist receive almost as much punishment as those he goes up against. Wondrously, the opening of this book sees Jack in a happy place. He'd been to London, met Laura, spent an idyll week in Paris and she was due to visit him in Galway in a few days. But anybody who's been following this series knows that it won't be long before a spanner gets thrown into the works and sure enough it's not long before Jack hears that Father Malachy has been attacked and left in a coma. Soon after a Down's syndrome boy is killed and Jack, along with Ridge and Stewart (the two people he can call friends) receive packages in the mail each of which contains a headstone. Obviously a warning but for what? Jack also gets a new case where he's asked to locate a missing member of a church group who's absconded with rather more than this week's collection plate money. So can Jack solve the case while avoiding the danger from the warning and get ready for the arrival of his new lady friend?Another fine addition to an already wonderful series. Not one I'd recommend as a starter book if you haven't yet tried Mr. Bruen's work as Jack Taylor is not an easy person to like unless you already know him from earlier adventures. Well worth starting from the beginning with The Guards. The writing style is somewhat unique, using cut-up sentences to form a character's thoughts before they are then put into speech but it's not difficult to get to grips with and the short chapters make for a fast and exciting read.