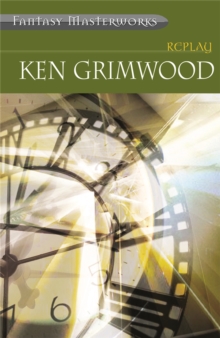 Description
At forty-three Jeff Winston is tired of his low-paid, unrewarding job, tired of the long silences at the breakfast table with his wife, saddened by the thought of no children to comfort his old age.
But he hopes for better things, for happiness, maybe tomorrow ...
But a sudden, fatal heart attack puts paid to that. Until Jeff wakes up in his eighteen-year-old body, all his memories of the next twenty-five years intact.
If he applies those memories, he can be rich in this new chance at life and can become one of the most powerful men in America.
Until he dies at forty-three and wakes up in his eighteen-year-old body again ...
Information
Format: Paperback
Pages: 272 pages
Publisher: Orion Publishing Co
Publication Date: 01/05/2005
Category: Fantasy
ISBN: 9780575075597
Free Home Delivery
on all orders
Pick up orders
from local bookshops
Reviews
Showing 1 - 5 of 5 reviews.
Review by pauliharman
16/06/2015
My new favourite book. A man relives a 25-year portion of his live over and again, retaining his memories from previous cycles although the outside world is "reset" each time (changes he makes in one stream do not occur in the next). Each iteration he is able to make different decisions, and thus takes several paths branching from the same starting point. A brilliant novel with an intriguing central idea andsuperb exploitation of the implications.
Review by seldombites
16/06/2015
We have all thought about what we would do differently if we had our life to live over again, but have we really thought through the implications? We think about what we could gain but have we truly thought about what we could lose? And what if we had to live our life over, and over, and over? Could we handle it? <i>Replay</i> is a brilliant book about time wasted and time gained and how we manage what very little time we have. The style is fresh and easy to read and the characters inspire empathy. I found this book hard to put down. Even those who are not fans of the fantasy genre ought to enjoy this book.
Review by salimbol
16/06/2015
A well-characterised and deeply humane story about a man 'replaying' a portion of his life, over and over again. Manages to be profound without being ponderous. For me, this has been one of the real highlights of the Fantasy Masterworks series so far.
Review by JenneB
16/06/2015
This is what I think they call a cracking good yarn.<br/><br/>It's sort of like Groundhog Day, except the guy keeps living his whole life over and over.
Review by Bagpuss
02/03/2016
What would you do if you could live your life again? And what if you had knowledge of what was to come? Would you try to save the world – to prevent tragedies from happening? Would you use that knowledge to become rich? Famous? Would you use it for good or for self-gain? Would your lifestyle be similar to your old one – or hedonistic, or charitable? <br/><br/>Although I'm perfectly happy with my life, there have been times when I wondered what might have happened if I'd made different choices – worked harder at school, married my first 'love', taken a different job... I think at some time or another we've all had the fantasy of revisiting the past.<br/><br/>For Jeff Winston, this fantasy becomes reality when he suffers a heart-attack in 1988… and wakes up as a college freshman in 1963. At first he's completely bewildered, but soon he comes to realise that this situation could work to his advantage. After all, a well-timed bet might change his fortunes – and he is onto a winner, being able to back a dead cert.<br/><br/>But will he be happy with his new-found life? And what will happen when he dies once more – and wakes up in 1963 again? <br/><br/>I mentioned on the Book Club Forum that I don't "do" fantasy and was challenged to read this by another member. I needn't have worried though – it was great. It's such a good story. Despite the fantasy element of the book, Jeff is a totally believable character. Although he changes the course of his history, he doesn't become egotistical and try to change his life into something extraordinary or to make himself into a hero. I guessed a few things in the book but that didn't detract from it at all.<br/><br/>If I have one, tiny, criticism of the book it's that some of the secondary characters, even some of those with whom Jeff becomes very involved, maybe lack a little depth, but that's only a minor criticism. I hardly like to admit this, but this is definitely one of my favourite reads of this year. Thanks for the recommendation, Steve. :) <br/><br/>According to Wikipedia, Ken Grimwood was working on a sequel to Replay when he suffered an untimely heart-attack at the age of just 59 and died. Or maybe he just went back to being 18 again…?!<br/>
Also in the Fantasy Masterworks series | View all