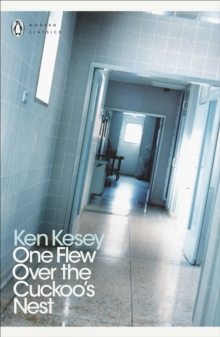 One Flew Over the Cuckoo's Nest
Paperback
Description
Pitching an extraordinary battle between cruel authority and a rebellious free spirit, Ken Kesey's One Flew Over the Cuckoo's Nest is a novel that epitomises the spirit of the sixties.
This Penguin Classics edition includes a preface, never-before published illustrations by the author, and an introduction by Robert Faggen.Tyrannical Nurse Ratched rules her ward in an Oregon State mental hospital with a strict and unbending routine, unopposed by her patients, who remain cowed by mind-numbing medication and the threat of electroshock therapy.
But her regime is disrupted by the arrival of McMurphy - the swaggering, fun-loving trickster with a devilish grin who resolves to oppose her rules on behalf of his fellow inmates.
His struggle is seen through the eyes of Chief Bromden, a seemingly mute half-Indian patient who understands McMurphy's heroic attempt to do battle with the powers that keep them imprisoned.
The subject of an Oscar-winning film starring Jack Nicholson, One Flew Over the Cuckoo's Nest an exuberant, ribald and devastatingly honest portrayal of the boundaries between sanity and madness.If you enjoyed One Flew Over the Cuckoo's Nest, you might like Anthony Burgess's A Clockwork Orange, also available in Penguin Modern Classics.'A glittering parable of good and evil'The New York Times Book Review'A roar of protest against middlebrow society's Rules and the Rulers who enforce them'Time'If you haven't already read this book, do so.
If you have, read it again'Scotsman
Information
Format: Paperback
Pages: 320 pages
Publisher: Penguin Books Ltd
Publication Date: 05/05/2005
ISBN: 9780141187884
Other Formats
Paperback from £7.65
EPUB from £4.99
Free Home Delivery
on all orders
Pick up orders
from local bookshops
Reviews
Showing 1 - 5 of 8 reviews.
Previous | Next
Review by NativeRoses
16/06/2015
Mental health workers as sadistic enforcers of social norms.
Review by MoonshineMax
16/06/2015
One of the greatest books I have ever read. You pick it up, and are instantly thrown into a wonderful world, a product of Chief Bromden's slightly deranged mind and his observations aon life, and through both these observations, and the changing dynamic offsetted by the introduction of Randall P. McMurphy, Kesey sucks you in and spits you out with a different outlook on 'the Combine'. This is a tale that has it all - great humour, action, mystery, plot turns, and great sadness. And yet, when you put it down, you think to yourself that it is a remarkably short book, and,, in such a short space of time, it has had you so caught up in the whirligig emotions of its characters, you are so completely engaged, that the famous last line will breath truth upon your own life.'I been away a long time'.Simply Phenomenal
Review by theboylatham
16/06/2015
Seven out of ten.
Set in an American mental hospital full of gradually decaying inmates, one ward is taken over by the newest patient - a boisterous, fun-loving rebel who openly defies the dictatorship of the matriarchal Big Nurse and battles her for the hearts and minds of the other inhabitants. The story is told through the eyes of another character, the Chief - who is one of the first to grasp the heroic battle against authority that is being fought in his name and the toll it takes on it's participants. A strange book that is both uplifting and depressing, revolutionary and conservative - well worth reading though.
Review by breakbeat
16/06/2015
Set in a state mental hospital during the 1960's, this is quite a shocking/surprising story told through the eyes of a half Indian (Chief Bromden)who pretends to be deaf & dumb of how one man (McMurphy) tries to fight against the system (in the form of the formidable Nurse Ratchet). It's impossible to not to empathize almost immediately with McMurphy who cannot fathom why most of the 'acutes' are in the hospital (epilepsy and homosexuality being the reason for 3 characters). His attempts to undermine the icey Nurse Ratchet causes amusement, alarm & unrest within the hospital and without spoiling it too much, ends bitter sweet. The descriptiveness of Bromden's hallucinations and perceptive observations of other patient's illness feels real and takes you on a hilarious but emotional journey.
Review by Peter_Forster
16/06/2015
A very interesting novel about the struggle of an individual against a totalitarian system.
Also in the Penguin Modern Classics series | View all