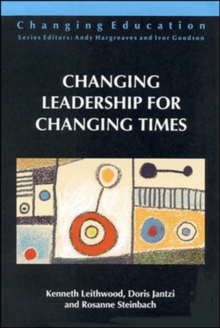 Changing Leadership for Changing Times
Paperback
Description
Envisioning the nature of schools of the future is more art than science.
But the response of today's schools to challenges presented by such forces as technology, changing demographics, and government austerity offer useful clues.
As a minimum, schools will need to be able to thrive on uncertainty, have considerably greater capacities for collective problem solving than they do at present, and meet a much wider array of student needs.
Changing Leadership for Changing Times examines the types of leadership that are likely to be productive in creating and sustaining such schools.
Based on a long term study of 'transformational' leadership in school restructuring contexts, the chapters in this book offer a highly readable account of such leadership grounded in a substantial body of empirical evidence.
Free Home Delivery
on all orders
Pick up orders
from local bookshops