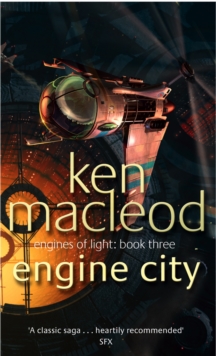 Engine City : Engines of Light Book 3
Paperback
Description
The acclaimed Engines of Light series that began with COSMONAUT KEEP and DARK LIGHT reaches its staggering conclusion in ENGINE CITY.For ten thousand years the varied races of the Second Sphere lived in peaceful co-existence, building their civilisations under the gaze of the ever-vigilant cometary minds.
But then the cosmonauts of the Bright Star came. And with them they have brought a revolution ... For one of the Bright Star's crew has warned that an invasion of the Second Sphere is imminent and has armed the ancient city of Nova Babylonia against it.
Another cosmonaut thinks he's the very man to lead the invasion.
The new regime of Nova Babylonia is certain it can withstand the alien onslaught.
Whether it can defend itself against Matt Cairns is a question only the gods can answer ...Find out more about this and other titles at www.orbitbooks.co.uk
Information
Format: Paperback
Pages: 384 pages
Publisher: Little, Brown Book Group
Publication Date: 04/09/2003
Category: Science fiction
ISBN: 9781841492032
Free Home Delivery
on all orders
Pick up orders
from local bookshops
Reviews
Showing 1 - 4 of 4 reviews.
Review by jerevo
16/06/2015
While still an enjoyable read, this is not up to the same standard as Cosmonaut Keep or Dark Light. The plots loses coherence as events pile up, leading to a conclusion which, while logical, is unsatisfying.
Review by malcrf
16/06/2015
This series got better and better.......................easy read, page turner, interesting premise.............recommended
Review by isabelx
16/06/2015
The prologue clarifies the role of the gods, and spells out the reason that they seeded the Second Sphere with earth flora and fauna, which I was very happy about as I had been wondering about it since reading the first book of the trilogy. From there we follow Grigori Volkov and the Tenebre trading ship to Nova Babylonia, and Gregor and Elizabeth back on Mingulay, where they discover evidence that the spider-monkey aliens may have returned. And from then onwards, events unroll in extremely unexpected ways.
Review by shanaqui
16/06/2015
I cried hard at the end of Engine City, when three characters who all at some point or another opposed each other stand together for one final thing (I won't go into what in case you want to read the books and don't want a major spoiler). The books also touch on other things I really love: the idea of immortality, the idea of space travel being like time travel, the shaping of societies, change within societies, gods being no more or less than aliens...
Also in the Engines of Light series | View all